Former President Donald Trump on Monday offered a preview of how he might deal with Florida Gov. Ron DeSantis during the Republican 2024 presidential primary.
In an interview with David Brody on "The Water Cooler" on Monday, he was asked about whether it would be a good idea if DeSantis joined the 2024 race. Trump in November declared his candidacy for president, while DeSantis has not announced a White House bid amid widespread speculation.
"So you know, now I hear he might want to run against me. So we'll handle that the way I handle things," Trump said. He did not provide more details on DeSantis's alleged plans.
Trump added that his 2018 endorsement of DeSantis for governor is what pushed him to win the seat: "I got him elected, pure and simple." DeSantis in November's midterms easily won reelection, defeating Democrat Charlie Crist by about 20 points.
But DeSantis hasn't announced he will run for president and has brushed aside questions about a 2024 run. When debating Crist in October, DeSantis did not commit to serving four full years as Florida's governor, while it has been reported that he will release an autobiography next year.
A number of polls have shown that DeSantis and Trump would be competitive during a GOP primary, with some polls showing the Florida governor edging out the former president.
As the midterms unfolded, Trump called DeSantis "Ron DeSanctimonious" and also stated that his endorsement was the reason why he got elected in the first place. DeSantis has not yet issued any public replies to Trump.
During a Nov. 16 press conference, DeSantis told reporters to "chill out" about the prospect of a fight between him and the former president. "I mean, I know around the country, Florida was kind of the biggest bright spot," DeSantis also said at the time. "It was not so bright in many other parts of the country. It was a substandard performance given the dynamics that are at play."
It came a day after Trump formally announced he would be running for president for a third time. Other Republican candidates such as former Vice President Mike Pence or former CIA Director Mike Pompeo have not declared their candidacies. And speculation has arisen about former U.S. Ambassador to the U.N. Nikki Haley and Republican Virginia Gov. Glenn Youngkin joining the race.
Early polls have shown, however, that Pence, Pompeo, and Haley would face an uphill battle against the likes of Trump or DeSantis—if he runs.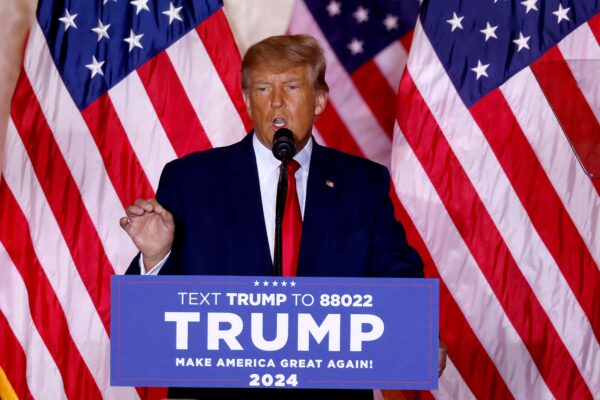 While there have been questions about Trump's 2024 strategy so far, a spokesperson stated that the race is a "marathon."
"We are not going to play into the media's game, where they are trying to dictate how we campaign," Trump campaign spokesman Steven Cheung told Yahoo News last month.
"This is a marathon, and our game plan is being implemented, even though the presidential calendar hasn't been set yet and the 2022 midterm cycle just ended," Cheung added. "We're focused on building out the operation and putting in place a foundation to wage an overwhelming campaign that's never been seen before. We're building out teams in early voting states and making sure we are positioned to win."
A spokesperson for a super PAC, or political action committee, aligned with Trump, Maga Inc., has about $55 million cash on hand. According to the spokesperson, the PAC reported bringing in $40 million in contributions between Oct. 20 and Nov. 28, with most funding coming via Trump's Save America committee.
"MAGA Inc is in a position to make sure President Trump has the resources and support he needs for a commanding win in November 2024," Taylor Budowich, a former Trump spokesman who now heads MAGA Inc., told Fox News in December. "As the race develops, we will ensure every career politician … who decides to take on our MAGA movement is vetted and exposed. And we will continue to highlight his accomplishments of President Trump and the reasons why he is the only person positioned to Save America."
The Epoch Times has contacted DeSantis's campaign for comment.