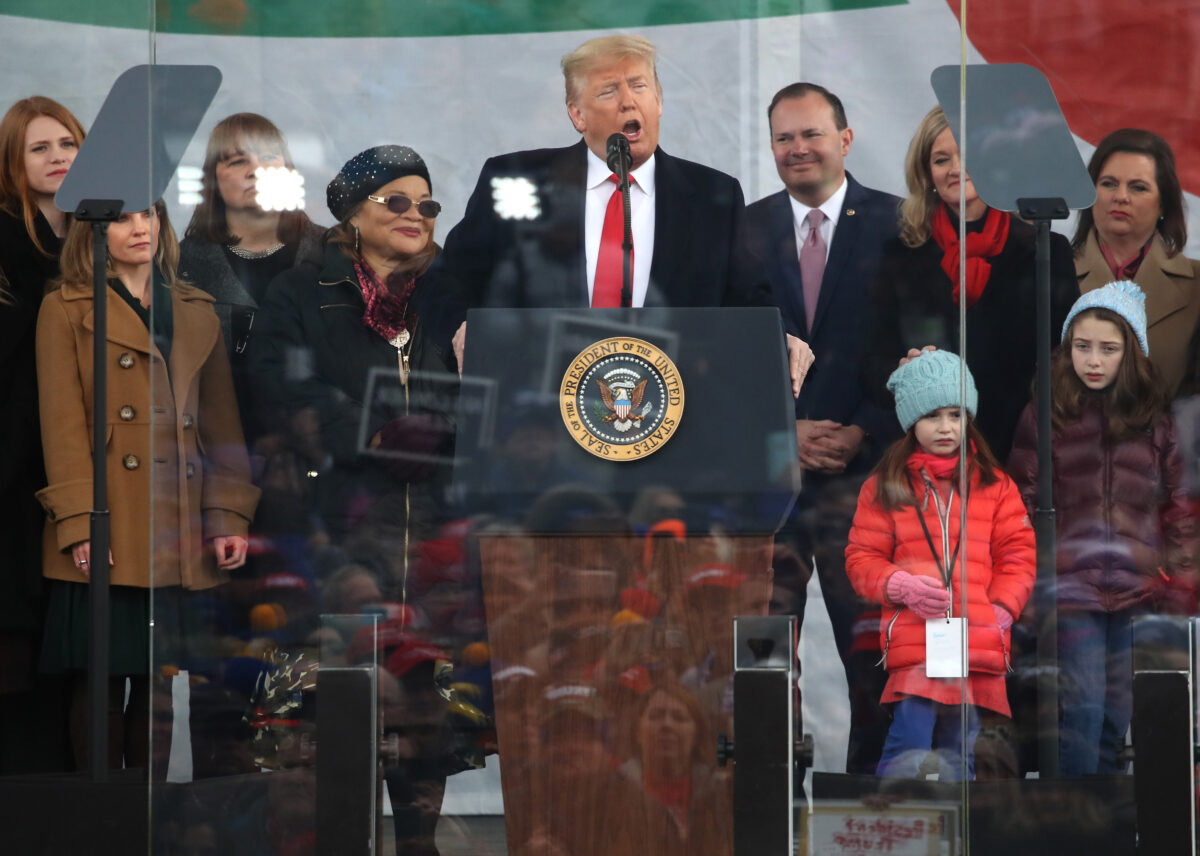 Former President Donald Trump has touted his U.S. Supreme Court picks for helping overturn the landmark Roe v. Wade abortion precedent last year and said his actions gave pro-life advocates greater power to negotiate and set abortion policy.
In an interview with Just The News on Tuesday, Trump claimed particular credit for the end of Roe v. Wade. As president, Trump appointed three of the Supreme Court justices—Neil Gorsuch, Brett Kavanaugh, and Amy Coney Barret—who supported overturning the landmark precedent during last year's decision in Dobbs v. Jackson Women's Health Organization. The Supreme Court's decision in Dobbs v. Jackson allows states to legislate aspects of abortion not already covered by federal law.
"I was able to do something for 52 years they've been trying to do, I was able to get rid of Roe v. Wade and what that did, it did a lot of things, but what it really did is it gave pro-life people the right to negotiate and a tremendous power to negotiate," Trump told Just The News host John Solomon.
"Now the pro-life people, they're in a tremendous position to get something where everybody can agree," Trump added.
Where Trump Stands on Abortion
While Trump has taken credit for bringing about the repeal of Roe v. Wade, he recently appeared to criticize Republican Florida Gov. Ron DeSantis for passing a ban on abortions in Florida after six weeks.
In a May 15 interview with The Messenger, Trump said, "If you look at what DeSantis did, a lot of people don't even know if he knew what he was doing. But he signed six weeks, and many people within the pro-life movement feel that that was too harsh." Trump would not say whether he would sign a six-week abortion ban if he had the chance.
Trump's comments come as DeSantis has been widely rumored to be preparing a 2024 Republican presidential campaign. Trump has led DeSantis in a range of hypothetical 2024 matchups, but DeSantis has led other Republican candidates in the 2024 field.
DeSantis appeared to reference Trump's comments about the six-week abortion ban during an address to the National Religious Broadcasters (NRB) convention in Florida on Monday.
"Let's be very clear on this that when we are acting to protect an unborn child that has a detectable heartbeat, that is humane, that is not harsh, it is the right thing to do," DeSantis said.
In a May 17 interview with Newsmax, Trump said he believes he can bring about an abortion policy "that the whole country can agree with" and that option is now available "only because I got us out of the Roe v. Wade where the pro-life people had absolutely nothing to say."
In his latest interview with Just The News, Trump said, "Some people want [abortions] frankly under no circumstances, some people want exceptions. I'm a person that feels the exceptions are important for a lot of reasons."
"[Abortion exceptions are] also important from the standpoint of an election," Trump continued. "If you don't have the exceptions, it's very very hard—and I think that's been proven—it's very very hard to win an election. Now, I don't say you do it for that. You do it for other reasons, moral reasons, you do it for what you really believe, but it still is a very very difficult thing to overcome from the standpoint of an election."
Incentives for Adoption
As the abortion discussion went on, Solomon asked Trump whether he would favor measures to incentivize adoption as an alternative to abortion.
"Would you use the tax code, do you have some ideas for using the tax code and other things to create incentives to do that?" Solomon asked.
"Well I think the incentive is great and I think the concept of adoption is fantastic and it can go a long way and it's something that I would be supportive of, very supportive of, and we'd get that done," Trump replied. "I don't even think that would be a very difficult thing to get done."
Trump said if he regains the presidency in 2024 his administration will strongly favor incentivizing adoption as an alternative to abortion. "It'll get done."
From NTD News
Original News Source Link

Running For Office? Conservative Campaign Consulting – Monthly Rates!