Former President Donald Trump has blasted President Joe Biden for allegedly tarnishing the country's reputation on the international stage while speculating that he would have been given a better seat at Queen Elizabeth II's funeral.
Trump was not invited to the funeral, which took place at London's Westminster Abbey on Monday. Biden and first lady Jill Biden arrived to the funeral slightly later than expected after being held up in traffic on their way to the venue. They arrived in the heavily-armored vehicle known as "the Beast" after being granted a special exemption. Most world leaders were banned from using private vehicles and were required to take a bus to the funeral instead.
The president and first lady arrived to the funeral roughly 12 minutes after other foreign dignitaries were seated and were given seats in the 14th row as a result, according to Time magazine. The Bidens were seated next to the president of Switzerland and between the president of Poland and the prime minister of the Czech Republic.
However, Trump insisted that Biden's place at the funeral was the result of the U.K. having less "respect" for the U.S. due to his presidency. While making his first public comments on the funeral in a Truth Social post on Monday, the former president argued that if he were in office instead, he would have never been seated "back there." He also said that Biden had been placed next to the leaders of Third World countries.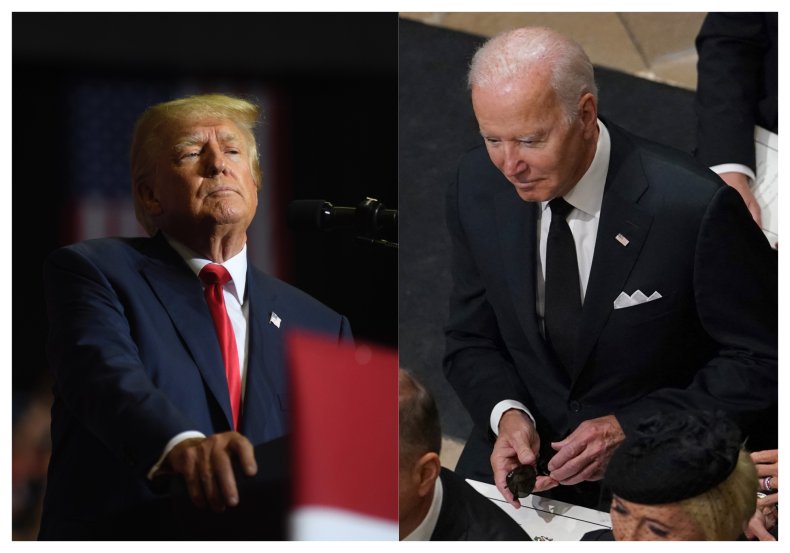 "This is what's happened to America in just two short years," Trump wrote alongside a photo of Biden being seated. "No respect! However, a good time for our President to get to know the leaders of certain Third World countries. If I were president, they wouldn't have sat me back there—and our Country would be much different than it is right now!"
"In Real Estate, like in Politics and in Life, LOCATION IS EVERYTHING!!!" he added in a later post.
A viral video that has been viewed more than 3 million times highlights the preferential treatment that the Bidens may have given by being allowed to travel to the event by private vehicle, regardless of their lack of prime seating. The video shows the president's large motorcade arriving at Westminster Abbey, in contrast to images of several buses carrying other world leaders to the funeral.
While Trump was not invited to attend Monday's funeral, he was invited to a separate memorial service in Washington, D.C., on Wednesday, alongside fellow living ex-presidents Barack Obama, George W. Bush, Bill Clinton and Jimmy Carter. None of the former presidents had confirmed their attendance as of Monday evening.
Newsweek reached out to the White House for comment.