Even though Florida Gov. Ron DeSantis still hasn't declared his presidential run, former President Donald Trump couldn't resist taking swipes at him during a March 13 campaign speech in Davenport, Iowa.
Three days after DeSantis gave an apparent campaign prelude speech in that city, Trump told a cheering crowd that he thinks people are starting to look into DeSantis' track record as a Congressman. They must not like what they're seeing, Trump said, and that could be "one of the reasons we're zooming in the polls."
Trump was leading DeSantis by a 14.7-point margin in the Real Clear Politics average of nationwide political polls.
Iowa is a significant state for any GOP presidential candidate. Its caucuses in 2024 will launch the GOP's presidential primary election season.
DeSantis, who served five years in Congress before becoming Florida's governor in 2019, had aligned with "Republican-in-Name-Only" RINO politicians, Trump said. DeSantis was "a disciple of Paul Ryan, who is a RINO loser," and is "currently destroying" Fox News, where he is a board member, Trump said.
And, Trump said, "Ron reminds me a lot of Mitt Romney," the U.S. Senator from Utah who lost a presidential bid in 2012 to President Barack Obama.
Then Trump hit DeSantis on an issue that is of major consequence to Iowa. He declared that DeSantis was "very, very bad on ethanol," a fuel source derived from corn and wheat; Iowa is the nation's top producer.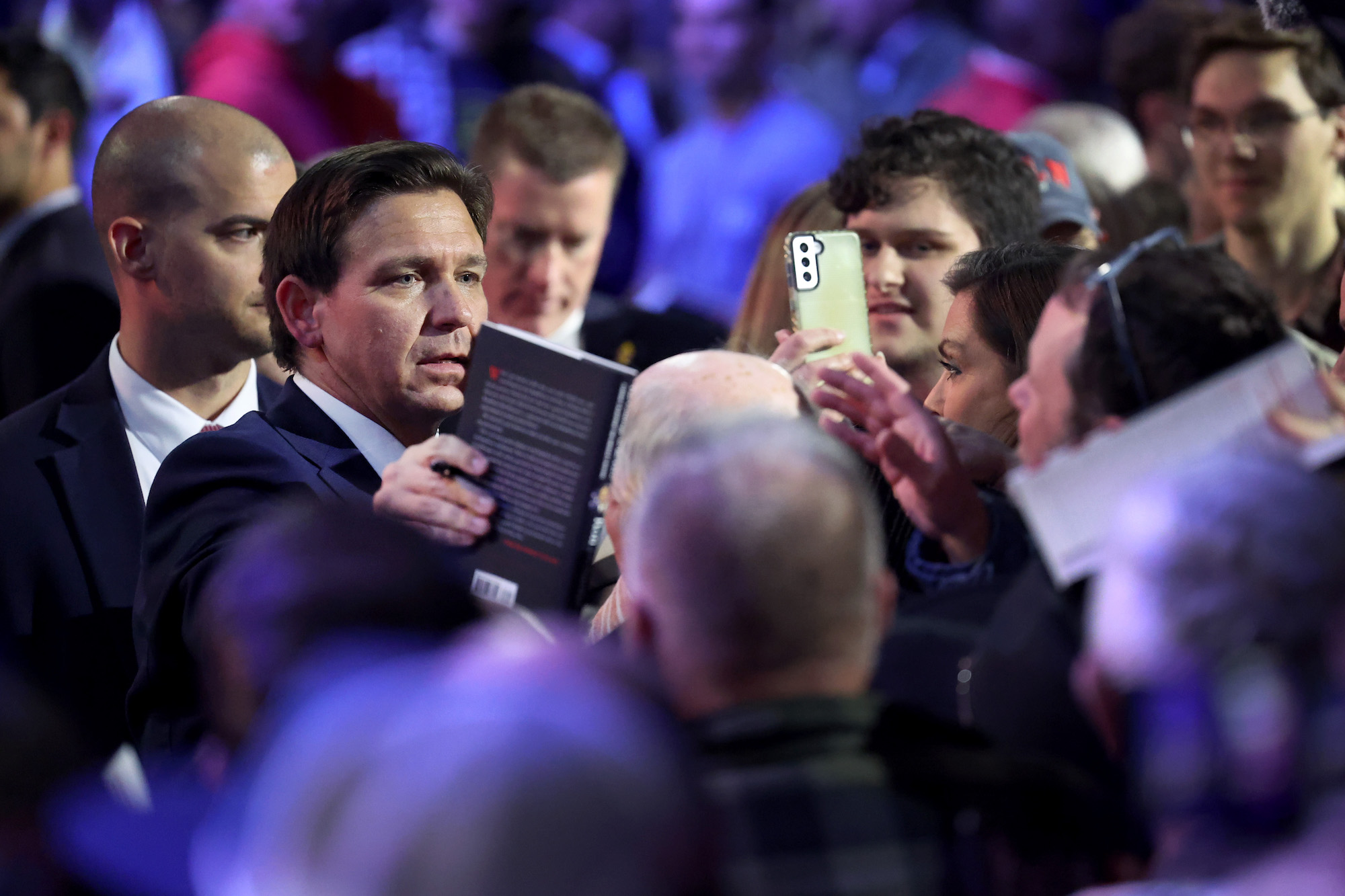 'War on Agriculture'
Speaking to a crowd at the Adler Theatre, Trump said that he fought hard for ethanol, a controversial fuel source, throughout his four-year presidential term.
Trump said Iowans have taken care of him, and he would continue to take care of them if he wins the White House again. Trump won the state during the November elections in both 2016 and 2020. Democrat President Joe Biden was declared the 2020 winner despite Trump's protestations of election irregularities.
Iowa Gov. Kim Reynolds, in introducing Trump's latest speech, quipped, "Joe Biden isn't just asleep at the wheel. That car is out of gas!"
She and a number of other Iowa state officeholders have pledged to support Trump.
During his speech, Trump criticized Biden for waging "a nonstop war on agriculture." He alleged that Biden "has tried to totally kill ethanol" and has implemented policies that hurt farmers.
In contrast, Trump said, "We put workers first. We put farmers first. And above all, we put America first," speaking to an overflow crowd in a theatre that seats 2,411; social media posts showed a line of people winding around a corner, waiting to get inside as temperatures dipped into the low 30s.
Trump said that, while serving as president, he shepherded through farm-friendly policies, including tax-code changes favorable to farmers who want to pass along their land to heirs.
"We made the farming business great—made it great again, if you think about it," Trump said, a reference to his typical "Make America Great America Great Again" (MAGA) campaign slogan. "Now it's slipping away a little bit, but we'll get that back real fast."
Under Biden's administration, farmers have struggled with fertilizer prices that have skyrocketed 300 percent while net farm income is projected to decrease 16 percent in 2023 alone, Trump said.
"Within hours of my inauguration, I will cancel every Biden policy that's brutalizing our farms," he said, receiving one of the loudest cheers of the evening. He spoke for nearly two hours, including a brief question-and-answer session with a few members of the audience.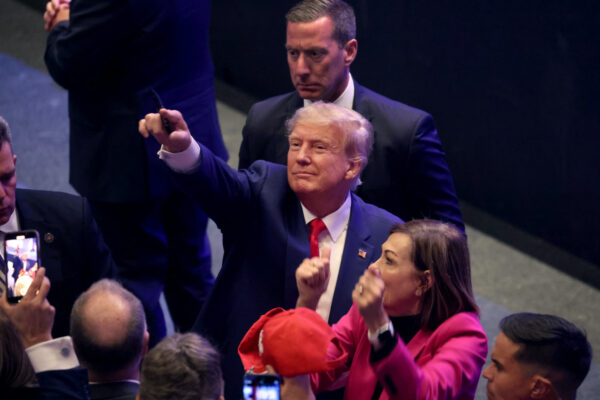 Comic Relief Amid Serious Subjects
Trump drew frequent cheers from the crowd, especially when he spoke out against "inappropriate" sexual, political, and racial content in children's school lessons.
Another Trump promise that drew a loud cheer: Withholding federal dollars from schools, "from kindergarten through college," that try to enforce any COVID vaccine or mask-wearing requirements.
The audience also shouted approval for Trump's declaration to "keep men out of women's sports." When men assert they are transgender and are allowed to compete in women's categories, "it really hurts women," Trump said. "It's the opposite of dignity. It's horrible."
Trump lightened the mood a bit by joking that if he were a basketball coach, "I would be the greatest coach in history, I'd have a women's team, I'd have all men."
Trump said he's no fan of basketball star LeBron James, "But I'd say, 'Hey, LeBron, you ever think of becoming a woman? Because you're gonna be on my team. We're gonna go undefeated for the next five years, LeBron.'"
The former president referenced the current investigations he is still facing, including rumblings that he could be indicted.
"They're breaking every law to persecute us while Joe Biden's brazen corruption and criminality is totally ignored," he said. Trump said evidence of possible wrongdoing is contained on a laptop computer that Biden's son, Hunter, had used. The former president still refers to the device as "The Laptop from Hell."
Our enemies are desperate to stop us," Trump said, "because they know that we are the only ones who can stop them."
Original News Source Link

Running For Office? Conservative Campaign Consulting – Monthly Rates!