Three Michigan U.S. Representatives asked the Inspector General of the U.S. Department of Justice (DOJ) Monday to open an inquiry into why the department dropped the investigation of CCP virus-related nursing home deaths in the state.
The DOJ started an investigation in 2020, looking into whether nursing home deaths in Michigan resulted from Democratic Gov. Gretchen Whitmer's policies, but on July 22, 2021, the department said it would end the probe.
"Families all across the state are demanding answers for why their loved ones were locked in facilities with COVID carrying individuals," read the letter (pdf) signed by Reps. Lisa McClain (R-Mich.), Tim Walberg (R-Mich.), and Bill Huizenga (R-Mich.). "For that reason, we are requesting that you open a formal inquiry into why the Department of Justice will not conduct an investigation into Governor Whitmer's decision to place COVID-19 infected patients in long-term care facilities."
The Reps. letter cited that 5,681 people died in the state's long-term care facilities of the CCP (Chinese Communist Party) virus as of July 21, 2021.
Whitmer in a June 2020 interview said the nursing homes that took COVID positive patients were well prepared.
"So there hasn't been one nursing home that has taken a COVID-19 patient that they didn't think that they were prepared to care for," Whitmer told Michigan's 7 Action News.
"Throughout the pandemic, our administration took swift action, following the best data and science from the CDC (Centers for Disease Control and Prevention), to slow the spread of COVID-19 and protect Michiganders, including vulnerable residents in long-term care facilities," Whitmer's spokesman, Bobby Leddy said in July 2021. "I want to be clear: at no point were nursing homes ever forced to take COVID-positive patients."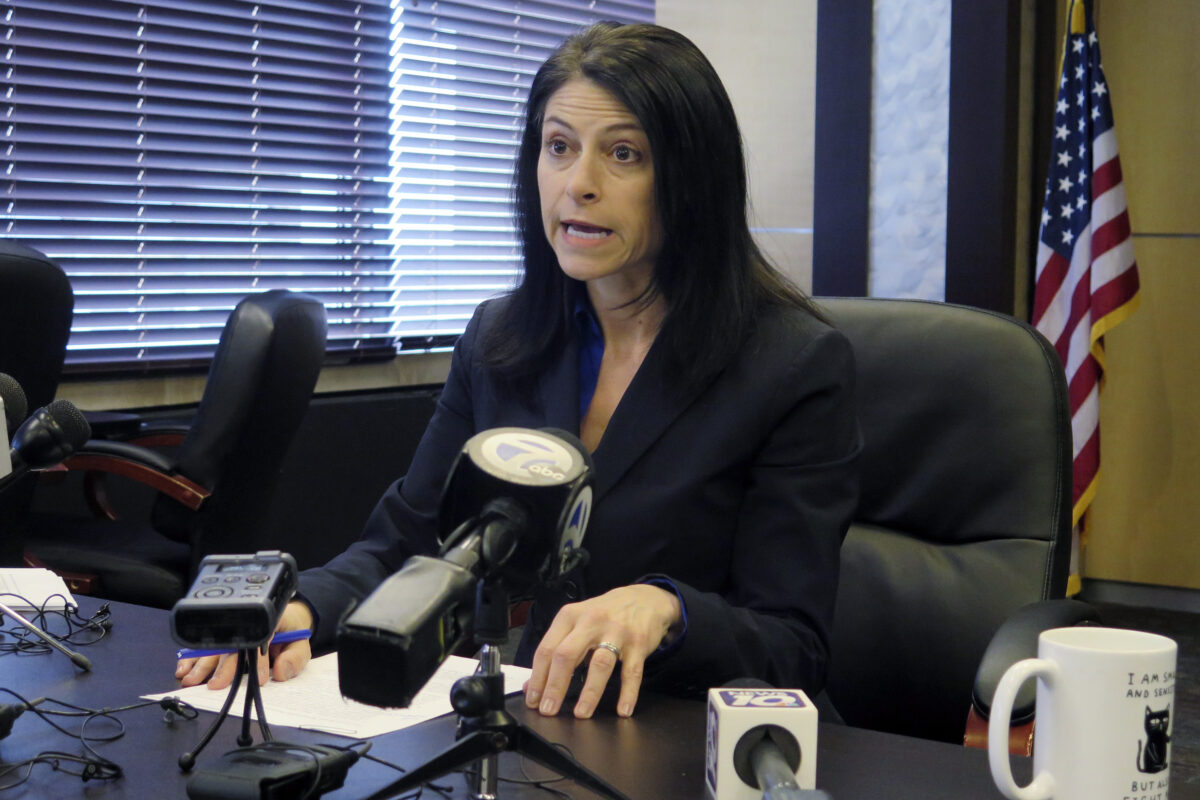 Meanwhile, the GOP Michigan Congress members say their constituents want answers from Whitmer about the nursing home deaths. "Last year, it seemed that the Department of Justice was going to finally get answers, from Governor Whitmer for the people of Michigan. On July 22nd, 2021, that hope faded with the Department's decision," they wrote.
The Michigan Congressional delegation wants the Inspector General to answer a list of questions including who within the DOJ made the call to end the probe, what data did Whitmer provide that "exonerated" her, and whether the White House was involved in the probe.
Michigan's Attorney General Dana Nessel said in a March letter that her office also would not conduct an investigation, because evidence shows no laws were violated.
"As an initial matter, I see no evidence in your letter or elsewhere to suggest that Governor Whitmer's efforts to contain COVID-19 in Michigan's nursing homes resulted in increased deaths," Nessel, a Democrat, wrote to GOP state Sen. Jim Runestad, who had asked for an investigation along with seven other Republican senators.
"I am aware that Gov. Whitmer's office complied with the [Department of Justice] information request and have no reason to doubt the accuracy of that response—much less suspect intentional misrepresentations within that response."
"To be sure, I will not hesitate to investigate state officials—including the Governor—when justified," Nessel added.
After the DOJ's decision to end the probe into Whitmer, Eric Ventimiglia, executive director for Michigan Rising Action criticized the decision.
"Governor Whitmer will not be able to escape accountability for her deadly nursing home scandal, and this partisan move by the DOJ is only prolonging the inevitable," said Ventimiglia.
Whitmer's office did not immediately respond to the request for comment.