Committee member Sen. Blackburn also uses hearing to question Secretary McDonough about his appearance in Durham report
At the Senate Veterans' Affairs Committee hearing on May 17 to review the Department of Veterans Affairs (VA) 2024 budget and advance appropriations for 2025, a priority issue was the VA's request for more funding to maintain and increase staff to process payment claims for veterans who have suffered injury or illness from exposure to toxins during their time in service.
The financial compensations are made according to the "Honoring Our Promise to Address Comprehensive Toxics Act" (PACT Act), which President Joe Biden signed into law in August 2022. Since then, more than 500,000 claims have been filed and more than $1 billion in benefit paid.
Secretary of the VA Denis McDonough appeared in front of the committee to present budget and appropriations requests and to field and answer questions from senators.
Also testifying at the hearing were Morgan Brown, national legislative director of Paralyzed Veterans of America; Shane Liermann, deputy national legislative director of Disabled American Veterans; and Patrick Murray, director of the National Legislative Service for Veterans of Foreign Wars.
Sen. Marsha Blackburn (R-Tenn.) added a dose of unexpected drama to the event.
After staying on topic about veterans' affairs, she went off topic in a big way, referencing the 300-page Durham Report released earlier in the week that documented critical errors in the FBI's investigation into alleged collusion by the 2016 Trump presidential campaign with Russian operatives.
Blackburn took the opportunity to ask Secretary McDonough, who was then-President Obama's chief of staff, if he had a role in the FBI's investigation.
Honoring Responsibility to Veterans and Acting Fiscally Responsible
VA requested $325.1 billion in funding for 2024, an increase of $16.6 billion or 5.4 percent over the enacted amount for 2023. VA also asked the committee for a mandatory advance appropriation of $193 billion for the Veterans benefits programs, which include readjustment benefits, compensation and pensions, and veterans' insurance and indemnities.
Donohue and the committee discussed how the recent debt-limit bill that the GOP passed in the House, which would hold spending at 2022 levels and has little chance of advancing in the Senate, would affect VA operations.
VA has said that a consequence of the bill, if passed, would be a 22 percent cut in spending for veterans' services. The GOP has countered by saying it is not touching veterans' spending in its austerity and belt-tightening plan.
Committee Chairman Jon Tester (D-Mont.) asked McDonough for his thoughts on the House's debt-limit bill.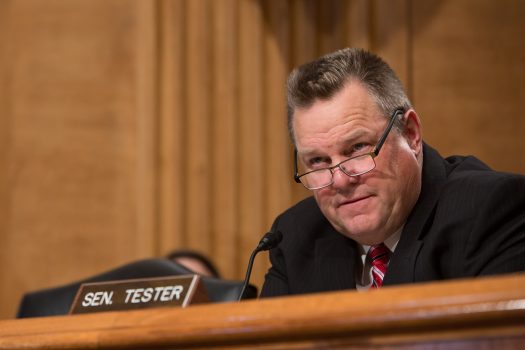 "If that 22 percent cut is applied to VA healthcare, that would mean 30 million fewer outpatient visits of the type I just talked about that we had last year," McDonough said. "Those are outpatient visits in the direct care system or community care system."
McDonough said that the cuts would hurt the ability of the VA to handle benefit and disability claims.
"Alternatively, if you look at it from the benefits administration, again, I talked about the fact that claims filed are 30 percent above where they were a year ago," McDonough said. "We are fulfilling 15 percent more claims year on year than we did a year ago, and we're able to do that because some efficiency we've found, but also because of hiring we carried out.
"If you apply the 22 percent reduction, add VBA [Veterans Benefits Administration], that would mean 6,000 fewer staff there. We have 28,000 staff there for the first time. We've talked to many of the members of this committee through how our staffing model works, where we are in that staffing model. But if there are 6,000 fewer personnel to process claims, that'll be an extension of a timeline that's already too long for vets; more delays."
In his opening remarks, Sen. Jerry Moran (R-Kan.) asserted his support and the support of all members of Congress for veterans. Meanwhile, he also echoed the sentiment of his fellow party members in arguing for more fiscal accountability and restraint in other areas of spending.
"I believe this and every VA budget request could be judged through a single lens, and that is, 'What will it deliver for veterans?'" Moran said. "This year's budget request is, once again, the largest yet for the VA, totaling $325.1 billion. That's a big number, and it should lead to big improvements for veterans.
"My point that I'm trying to make is that we ought not, and I've done it myself from time to time, in which we brag about the amount of money that we've spent or the increases that we're providing for veterans.
"But if bigger numbers were all that is needed to deliver, we'd have better results. And so, it's what we can deliver with bigger numbers and better results, we still wouldn't have higher veteran suicide rates, hundreds of thousands of veterans waiting on claim backlog for their earned benefits, a troubled new electronic health record, a 12 months trend of meaningful decline in access to care, according to the VA's own quality data, scores of recent reports from the Inspector General and Government Accounting Office detailing serious and sometimes fatal failures."
Blackburn Jumps to New Report Findings
Sen. Marsha Blackburn (R-Tenn.) began questioning McDonough about the VA's telework policy, mentioning legislation that she filed to reinstate pre-COVID telework policies at federal agencies. She asked if he knew of any employees at the VA who were holding more than one telework job. McDonough said he did not but that he would investigate and get back to her.
Blackburn asked the secretary about a work environment report he was preparing. She asked about the factors contributing to the backlog in processing claims of veterans harmed by exposure to toxins.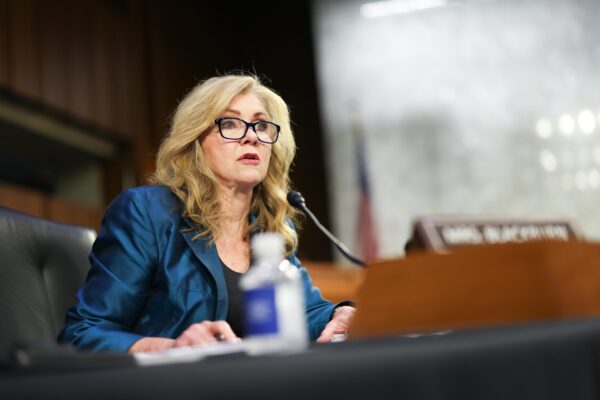 "I feel quite proud of the work that our workforce has carried out the last couple years," McDonough said. "Productivity, for example, at VBA, the Veterans Benefits Administration, is the highest it's ever been. Even though they're max telework right now, they are at higher productivity rates than we were in 2019."
Blackburn then changed course–dramatically.
"I do want to come to something that, to me, was very troubling as I was reading it last night and looking through the Durham report," Blackburn said. "I know you were President Obama's chief of staff from January 2013 to January 2017, and as I was reading through some of this, I would like to know from you, during that time as chief of staff, did you participate in any meetings with the FBI regarding the investigation of the Trump campaign?"
McDonough replied: "You know, it's been a long time since I've thought about that but I'll be more than happy to go back and take a hard look at that and get you an answer."
"I would appreciate knowing that, and I think it's important to know what your involvement was with the FBI in pushing for that," Blackburn said. "And my understanding is that you were in the 2016 meeting in the Situation Room with President Obama, Susan Rice, and other top officials where they discussed the Russia collusion issue. Is that accurate?"
McDonough said: "I'm not sure I know which meeting you're talking about but I'd be more than happy to look."
"I think it was July of 2016; again, it's reported in the report, and you were in there and that is of concern to me," Blackburn said. "You were charged with leading a very important agency and the work that you do is vital to our veterans. And it is of tremendous concern to me as I was reading this report last night, and it was also a source of disappointment to me, that you would have been involved in this process of weaponizing the FBI.
"This is something that should never happen. People do not want to see two tiers of justice. And as we talk about the VA, they want to see a standard of service for everybody, and they want to see that consistency," the senator said.
Original News Source Link

Running For Office? Conservative Campaign Consulting – Monthly Rates!