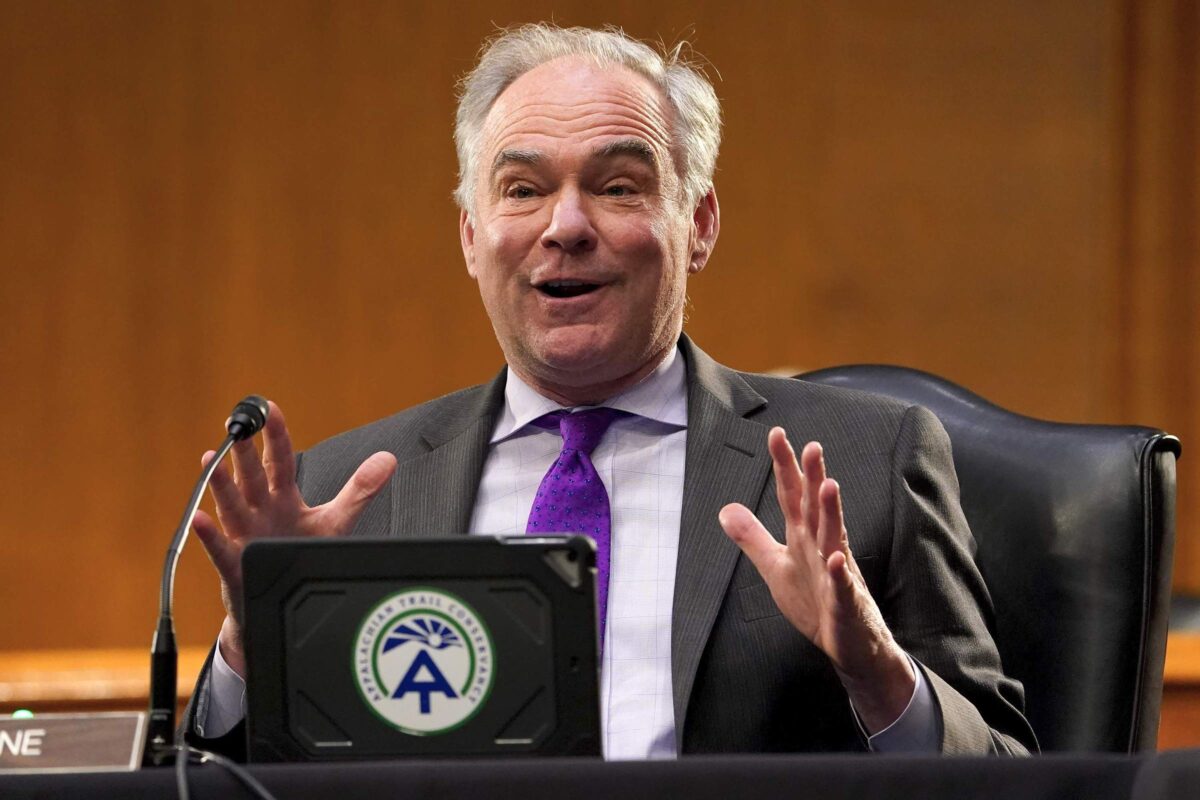 U.S. Sen. Tim Kaine (D-Va.) announced Friday that he will run for reelection in 2024, likely easing his party's worries about keeping the Senate majority.
"I have been really grappling with what to do with respect to my time in the Senate, and I'm very happy to announce that I'm going to run for a third term in the Senate," Kaine said at a press conference in Richmond, Virginia, where he held a round table discussion with local business leaders at a local cafe.
"I love Virginia. I'm proud of what I've done. I got a whole lot more I want to do," he said.
Kaine said there is momentum from his work in the Senate so far that he wants to harness to accomplish more for his state.
"I think we've hit stride. I think I'm getting better at it, because it's a weird place, the Senate. You have to learn and get better at it," he said.
The senator said there is still much more he wants to help accomplish, including comprehensive immigration reform, workforce development, and universal child care.
"If we're not doing an immigration reform bill that's really focused on the workforce, then we're not going to have the workforce that we need to have an economy that's as productive as it can be for everybody," he said.
Kaine was elected to the Senate in 2012 and was the former lieutenant governor and governor of Virginia, as well as Hillary Clinton's 2016 vice presidential running mate.
Although Kaine's running is good news for Senate Majority Leader Chuck Schumer (D-N.Y.), there are other Democrat senators who are not certain to run in 2024, including Sen. Joe Manchin of West Virginia and Sen. Jon Tester of Montana. Sen. Debbie Stabenow of Michigan announced recently that she will not seek reelection in 2024.
There are 21 Senate Democrats and 10 Senate Republicans whose seats are up for reelection in 2024, plus two independents, making a total of 33 seats. However, six of the Democrats' seats are in states won by former President Donald Trump in either 2016 or 2020. Republicans, meanwhile, will not be defending any seats in states won by President Joe Biden.
Trump won Ohio, Montana, and West Virginia in 2020 and Arizona, Pennsylvania, and Wisconsin in 2016.
Senate seats held by Democrats will be up for reelection in 2024 in Wisconsin, Ohio, Washington, Maryland, Delaware, Pennsylvania, California, New York, New Mexico, Hawaii, Virginia, Minnesota, West Virginia, New Jersey, Connecticut, Nevada, Arizona, Michigan, Montana, Massachusetts, and Rhode Island.