Since Russia invaded Ukraine on Feb. 24, 2022, the total amount of assistance allocated by the United States to Kyiv has risen to dizzying heights.
Divided between military, economic, humanitarian, and other forms of aid, precise breakdowns can be difficult–especially for the layman–to make sense of.
According to official sources, the total U.S. contribution to the Ukrainian war effort now stands at some $113 billion, vastly exceeding contributions made by Kyiv's other allies.
But as the bills have continued to mount, so have calls for greater oversight as to how those funds are being spent. Recent corruption scandals in Kyiv have raised fears that U.S. taxpayer dollars are, in the absence of accountability, being squandered.
What's more, dissident voices are pointing out that the war shows little–if any–sign of ending soon, despite the West's seemingly boundless support for Ukraine.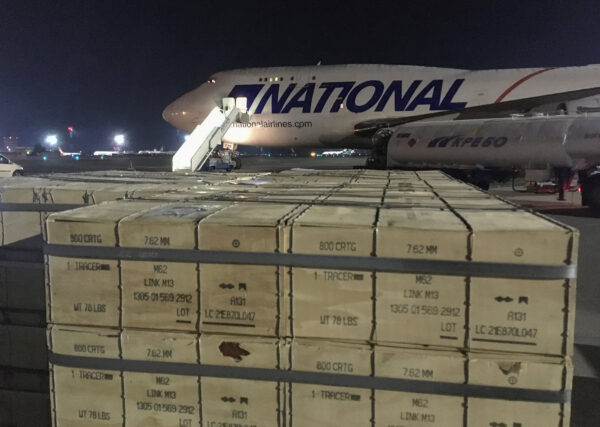 Breaking It Down
Responding to questions from The Epoch Times, the Washington-based Committee for a Responsible Federal Budget (CRFB) confirmed that the $113 billion figure was "still accurate."
This figure, it explained, "includes only the funding packages Congress approved through December 2022, and Congress has not approved any further packages in 2023 thus far."
According to CRFB data, roughly three-fifths of the $113 billion ($67 billion) has been allocated for "defense needs," while the remaining two-fifths ($46 billion) has been earmarked for "non-defense concerns."
More precise breakdowns can appear bewildering, with official and semi-official sources (state agencies, think tanks, media outlets, etc.) often appearing to contradict one another.
"The confusion tends to be in how money is appropriated and spent by the government," said the CRFB, a nonpartisan group with the stated aim of "educating the public on issues with significant fiscal policy impact."
Congress, the group explained, "has constitutional authority to decide how much federal spending there should be–the "power of the purse"–while the Executive Branch (the president and other agencies) are charged with spending that money."
"Depending on when you account for that spending will get you different amounts," the CRFB added, "because it takes the Executive time to actually spend the money Congress appropriates."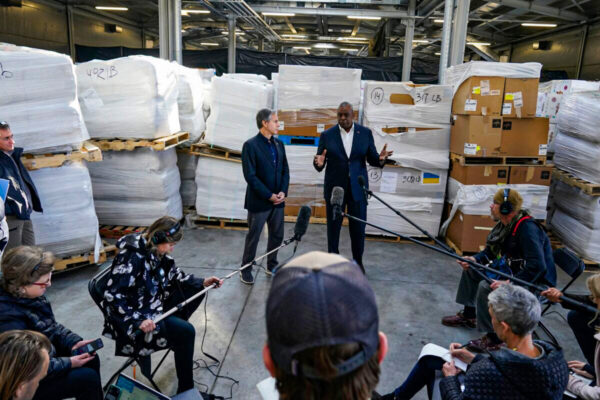 Complex Channels
The fact that disbursements are made through a complex medley of bureaucratic channels, typically involving multiple agencies, tends to compound the confusion.
In the case of military aid, for instance, these channels include–but aren't limited to–Presidential Drawdown Authority (PDA), the Ukraine Security Assistance Initiative (USAI), and Foreign Military Financing (FMF).
According to the CRFB, the PDA lets the president send U.S. weapons straight to Ukraine, while the USAI lets the government–in tandem with the private sector–provide equipment and training to Ukraine's military.
The FMF, meanwhile, allows the government to replenish the stockpiles of NATO allies that have given their own military hardware to Ukraine.
Non-military forms of assistance–including economic, humanitarian, and government aid–are funneled to Ukraine through similarly complex channels.
For example, since the conflict began, the U.S. Agency for International Development (USAID) has given Kyiv $13 billion in "direct budget support."
According to a USAID report released on the one-year anniversary of the Russian invasion, these funds are meant to help Kyiv pay for "basic public services," such as healthcare and education.
They are also meant to help Ukraine maintain "a well-functioning state with strong institutions free of corruption" and "a vibrant, inclusive economy, a free press, and robust civil society."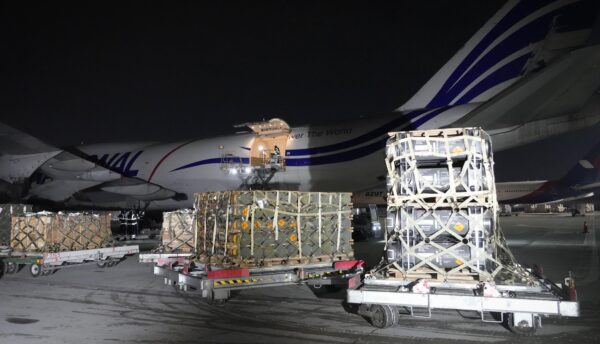 Mounting Concerns
While these lofty objectives appear well-intentioned, a recent string of corruption scandals in Kyiv has served to raise questions as to whether U.S. largesse was being spent as intended.
Two days before USAID published its report, the House Committee on Oversight and Accountability sent a powerfully worded letter to the heads of USAID, the State Department, and the Defense Department.
In the Feb. 22 letter, committee head James Comer (R-Ky.) called on the heads of the three federal agencies to ensure that funds bound for Ukraine were being used "for their intended purposes" so as to prevent "waste, fraud, and abuse."
The letter cites a Jan. 25 statement by John Kirby, spokesman for the National Security Council (NSC), in which he claimed the NSC had "not seen any signs" that U.S. budgetary assistance to Kyiv had "fallen prey to any kind of corruption."
Kirby's assertion, the letter goes on to note, came one day after several high-ranking Ukrainian officials were removed from their posts amid graft allegations.
According to the letter, Kirby's remark suggested the NSC was "unaware" of the corruption scandal in Kyiv, thus "heightening concerns that U.S. agencies are not conducting oversight of taxpayer assistance to Ukraine."
The three agencies were then given until Mar. 8 to hand over a wide range of "documents and information" pertaining to how they were "conducting oversight of these funds."
Two days before the deadline, the State Department's Bureau of Legislative Affairs sent a letter to Comer stressing the three agencies' commitment to "working closely" with his committee to ensure that the funding was being used "effectively, efficiently, and for its intended purpose."
In the letter, the agencies offered to hold an "interagency briefing" for members of the Oversight Committee "to address your questions and to provide requested information."
As of the time of writing, however, a date for the proffered "interagency meeting" had yet to be made public.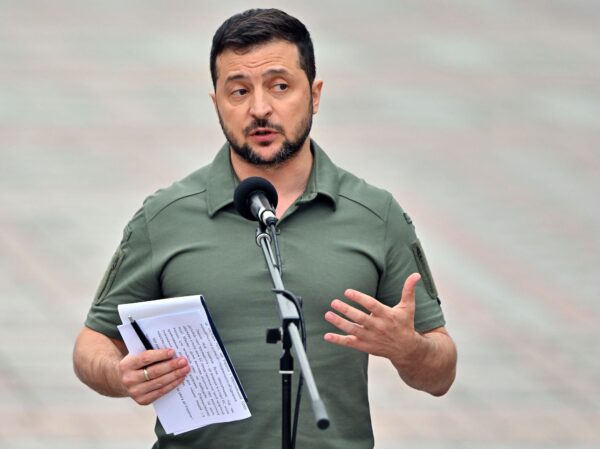 Scandal in Kyiv
Before Russia's invasion, the western press didn't shy away from reporting on corruption plaguing the Kyiv government. In 2015, British newspaper The Guardian famously described Ukraine as "the most corrupt nation in Europe."
But after Russia sent troops into Ukraine early last year, the media abruptly changed its tune, seldom portraying Kyiv in anything other than glowing terms.
According to the mainstream narrative, Ukraine and its president, Volodymyr Zelenskyy, were defending the West and its democratic ideals–almost single-handedly–from the depredations of "Russian autocracy."
A former comedian and television actor, Zelenskyy won the presidency in 2019 on pledges to combat endemic government corruption.
Time magazine celebrated Zelenskyy–and the amorphous "Spirit of Ukraine"–as its "person of the year" for 2022. Any criticism of Kyiv, or its TV-friendly wartime president, was blasted by mainstream media pundits as Russian "disinformation."
This aura of infallibility, however, took a major hit on Jan. 24, when a raft of top Ukrainian officials abruptly resigned–or were sacked–amid corruption allegations.
The deputy defense minister stepped down following claims he had procured rations for troops at inflated prices, while a deputy infrastructure minister was arrested on charges of taking kickbacks for overpriced generators.
Several other high-ranking officials, including regional governors and an assistant attorney general, were likewise forced from their posts amid similar allegations.
"Internal problems that interfere with the state are being cleaned up," Zelenskyy said at the time. "It is necessary for our protection and helps our rapprochement with European institutions."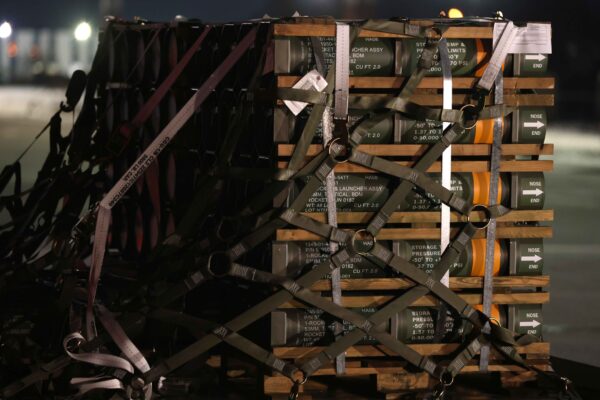 'Black Hole'
The NSC, for its part, responded to the dismissals by praising Zelenskyy's "quick action … to ensure effective monitoring and accountability of public procurement and to hold those in positions of public trust to account."
Zelenskyy's critics, including high-profile Russian officials, were less kind.
Shortly before the scandal broke, Chechen leader Ramzan Kadyrov, a close ally of Russian President Vladimir Putin, described the influx of western aid to Ukraine as little more than a "money-laundering scheme."
Speaking on the Telegram messaging app, he made the claim that "no more than 15 percent of the entire [western] aid will reach the trenches."
Needless to say, Kadyrov is far from an unbiased source. But similar claims have been heard intermittently–in the western media–since the very first months of the conflict.
Last April, CNN, whose pro-Kyiv bona fides are hardly open to question, cited an unnamed intelligence source who alleged that U.S. arms fell "into a big black hole" after crossing the Ukrainian border.
In August, CBS News aired a documentary entitled "Arming Ukraine," which featured interviews with Jonas Ohman, the head of a pro-Kyiv "NGO" that funnels western arms and equipment into Ukraine.
In the documentary, Ohman claims that only about 30 percent of these arms and equipment actually "reaches its final destination." He later attributes the alleged shortfall to interference by local "powerlords, oligarchs, and political players."
Elsewhere in the 23-minute documentary, Ohman claims that his organization has been bringing arms into Ukraine "since the summer of 2014."
Despite the documentary's overtly pro-Ukraine stance, it was swiftly retracted by CBS–two days after it aired–following an outcry by Kyiv.
Ukrainian Foreign Minister Dmytro Kuleba accused the broadcaster of having "misled a huge audience by sharing unsubstantiated claims and damaging trust in supplies of vital military aid to a nation resisting aggression and genocide."
Speaking on Twitter, Kuleba went on to demand "an internal investigation into who enabled this [documentary] and why."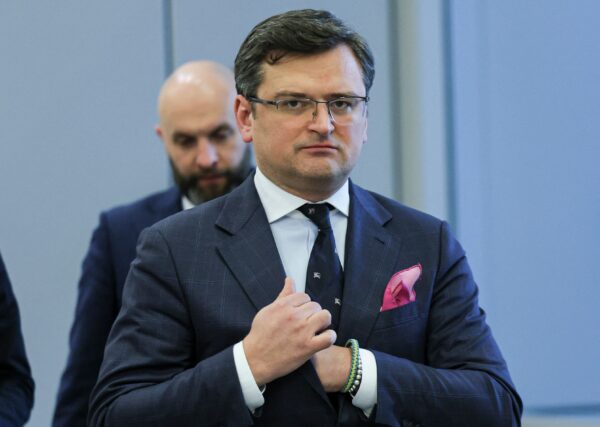 'Long History' of Corruption
Yet despite Kyiv's protestations, it wasn't the first time for such claims to be made.
The Kremlin has repeatedly warned that western arms bound for Ukraine were ending up in the hands of criminal gangs and terrorist groups. Last June, Jurgen Stock, the secretary-general of Interpol, issued a similar warning.
At a Feb. 28 hearing of the House Armed Services Committee, Pentagon Inspector-General Robert Storch was questioned by lawmakers regarding concerns that U.S. weapons were falling into the wrong hands.
Storch, for his part, said his office had found no evidence that this was the case, but added that investigations were still in their early stages.
His office, he added, would "continue to make independent oversight of assistance to Ukraine a matter of the highest priority."
"And we will continue to keep the Congress and the public informed about our work," he added.
However, when further pressed by Congressman Matt Gaetz (R-Fla.), a vocal critic of unfettered aid to Kyiv, Storch conceded: "There's a long history of issues with corruption in Ukraine."
Concerns regarding the potential diversion of western arms and equipment bound for Ukraine have not been confined to the United States.
In July 2022, the Ottawa Citizen, citing "multiple defense sources," reported that Canada "has no idea about the whereabouts of the equipment it has provided to Ukraine as it does not actively monitor the distribution of gear."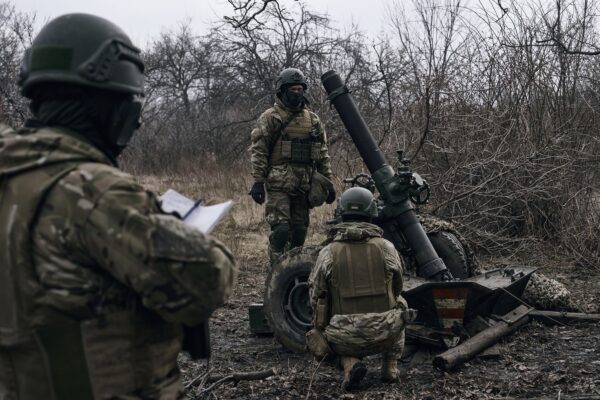 Facts on the Ground
Since Russia's invasion of Ukraine last year, the United States has provided the latter with a vast of array of offensive equipment, including tanks, armored vehicles, artillery systems, and munitions of all shapes and sizes.
But there's little evidence that Ukraine is winning the conflict, despite frequent claims to the contrary by the western mainstream media.
Last year's Ukrainian counter-offensives in Kharkov and Kherson were widely hailed as victories.
Since then, however, Russian forces have shored up their positions–especially in the eastern Donbas region, which remains the primary focus of its "special military operation."
Recent weeks have seen Russian forces capture several positions in Donetsk, with the strategic town of Bakhmut, a key Ukrainian transport hub, all but surrounded.
Last September, Russia effectively annexed Donetsk and Luhansk (which together comprise Donbas), along with the southern Kherson and Zaporizhzhia regions. It now considers all four regions as Russian Federation territory.
Last year's annexations coincided with the mobilization of 300,000 fresh troops, many of whom will likely take part in an anticipated springtime offensive.
But while the mainstream press plays down Russian battlefield gains, a handful of dissenting voices, including respected military experts, have issued stark warnings regarding the course of the conflict.
Last November, retired army colonel Douglas Macgregor, who advised the secretary of defense under the Trump administration, warned that "heavy" Ukrainian casualties had "dangerously" eroded Kyiv's combat capabilities.
Writing in The American Conservative magazine, Macgregor asserted: "Contrary to the western media's popular 'Ukrainian victory' narrative, which blocks any information that contradicts it, Ukraine is not winning and will not win this war."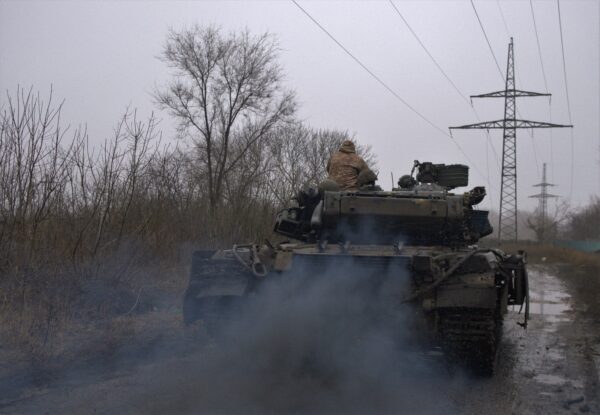 'As Long as It Takes'
Meanwhile, prospects for a diplomatic solution appear more distant than ever.
On March 10, Russian Foreign Minister Sergey Lavrov said that Moscow saw "no chance for holding talks at the moment."
Six days later, U.S. Secretary of State Antony Blinken echoed these sentiments. "I see no evidence that, right now, Russia is interested in a diplomatic resolution … that would end this war," he said.
So the question begs itself: In the absence of a solution, either military or diplomatic, how long is the United States willing to throw money and arms into Ukraine?
According to most U.S. officials–and their like-minded counterparts in Europe–the answer is obvious: "For as long as it takes."
"We are committed to standing with Ukraine for as long as it takes," State Department spokesman Ned Price reiterated at a March 13 press briefing. "We are committed to our Ukrainian partners."
In response to a question from The Epoch Times, Price added: "It's important for the United States to be resolute, along with the dozens of countries around the world who have not only stood with Ukraine but endorsed the UN system, the UN Charter, international law, and the UN Declaration of Human Rights."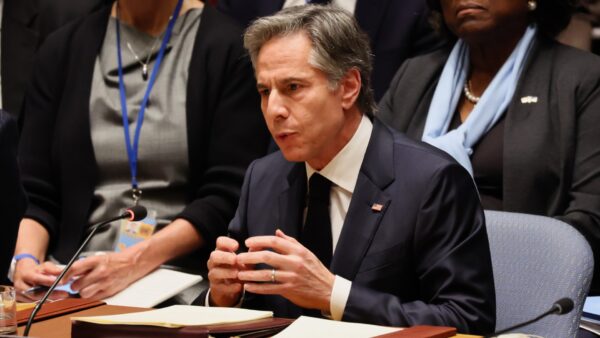 Ukraine Fatigue
But as the cost of arming and funding Ukraine continues to rise, others in government aren't willing to wait so long.
On Feb. 10, a handful of Republican lawmakers, led by Florida's Gaetz, unveiled a bill in Congress calling for an end to U.S. assistance–military and financial–to Kyiv.
The bill's 11 proponents sought to justify the legislation by citing the steadily mounting cost to taxpayers, the risk of escalation with a nuclear-armed Russia, and the erosion of U.S. military stockpiles.
The resolution, dubbed the "Ukraine Fatigue" bill, calls on all parties involved in the conflict to reach a negotiated solution.
"We must suspend all foreign aid for the war in Ukraine and demand that all combatants in this conflict reach a peace agreement immediately," Gaetz said in a press statement.
Claiming the United States was in a period of "managed decline," the firebrand congressman warned of further deterioration if Washington continued to "hemorrhage taxpayer dollars" by prolonging the war.
The text of the bill includes a long list of U.S. military contributions to Ukraine, which, it asserts, have "severely depleted U.S. stockpiles, weakening U.S. readiness in the event of conflict."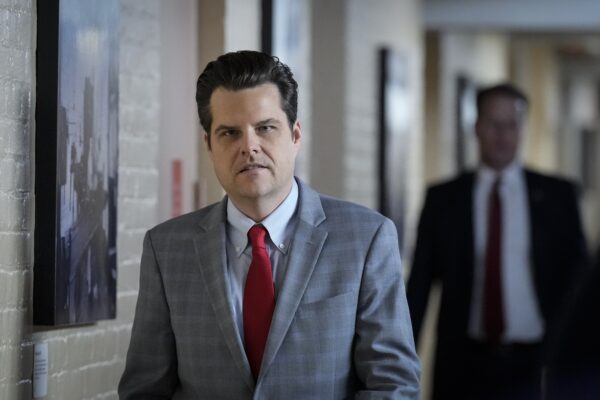 'On the Precipice'
The bill has little chance of being adopted and its sponsors still represent a minority opinion–even among fellow Republicans. Nevertheless, it appears to reflect mounting public opposition to boundless support for Ukraine.
Days after the bill was introduced, a poll conducted by the Associated Press found that public support for U.S. assistance to Kyiv had fallen–from 60 to 48 percent–since the opening months of the conflict.
On March 14, after Russian warplanes downed a U.S. drone near the Russian-controlled Crimean Peninsula, Gaetz reiterated his call to "end our involvement in this conflict."
"With today's loss of a U.S. Air Force MQ-9 Reaper drone in the Black Sea, we are once again reminded of the treacherous reality of our involvement in the Russia-Ukraine war," he said on Twitter.
"It is impossible to ignore the dire risk of total war with Russia as we teeter on the precipice of direct conflict."
Original News Source Link

Running For Office? Conservative Campaign Consulting – Monthly Rates!