The 'globalist neocon establishment' is dragging America into endless wars, he said
All other issues pale in comparison to the issue of preventing World War III, former President Donald Trump says.
"We have never been closer to World War III than we are today under Joe Biden," Trump declared in a March 16 video message. "A global conflict between nuclear-armed powers would mean death and destruction on a scale unmatched in human history. It would be nuclear Armageddon. Nothing is more important than avoiding that nightmare."
To avoid such a devastating conflict, "new leadership" is needed, Trump said, along with "peace without delay."
In February, on the first anniversary of Russian forces crossing the Ukrainian border, President Joe Biden approved an additional $2 billion in military aid for Ukraine.
Tallies of U.S. humanitarian, military, and financial aid rendered to Ukraine vary, but the Council on Foreign Relations set it at $77 billion.
"Every day this proxy battle in Ukraine continues, we risk global war," Trump said in his video. "We must be absolutely clear that our objective is to immediately have a total cessation of hostilities."
Trump's new video, shot at his home at Mar-a-Lago in Palm Beach, Florida, expands on a topic he advanced during a speech in early March at the Conservative Political Action Conference outside Washington.
He declared: "I'm the only candidate who can make this promise: I can prevent, and very easily, prevent World War III."
He asserts that he knows what to say to leaders of Ukraine and Russia to halt the conflict.
During his presidency from 2017–2021, Trump touted positive meetings with both Russian President Vladimir Putin and Ukrainian President Volodymyr Zelenskyy.
Trump, who left the White House after Biden was declared the winner of the 2020 election, is now campaigning to become the Republican Party's presidential nominee for the 2024 contest.
Dispute Over Priorities
Earlier this week, several other Republican presidential hopefuls also publicly stated they disagree with making Ukraine such a priority at a time when America faces significant threats from China.
Others also say America should not be meddling in Russia and Ukraine's affairs, which are complex, and that the United States needs to cease sending aid to Ukraine because America is already mired in too much debt.
Supporters of aiding Ukraine say the United States has a moral and strategic obligation to help a fledgling democracy fend off unjustified Russian aggression. Putin has asserted that he needed to take action against rising Nazism and genocide against ethnic Russians in Ukraine.
The U.S. Department of Defense says America is protecting Ukraine's right to be a sovereign nation. Biden has pledged to continue the aid for as long as it takes. Questions have swirled around Biden's foreign policy motives considering the past business dealings in China and Ukraine involving his son, Hunter Biden.
Biden's surprise visit to Ukraine in February drew criticism about his administration's priorities. He traveled there on Feb. 20 instead of visiting East Palestine, Ohio, a small community suffering from a train derailment and toxic environmental disaster since early February.
Trump visited the town on Feb. 22, while Biden has yet to travel there.
'Neocon Establishment' Blamed
To forge worldwide peace, Trump said it's necessary to dismantle "the entire globalist neocon establishment," referring to liberal-leaning conservatives who advocate using military means to promote democracy in foreign lands.
This faction is "perpetually dragging us into endless wars, pretending to fight for freedom and democracy abroad, while they turn us into a third-world country and a third-world dictatorship right here at home," Trump said.
He called for a complete overhaul of the U.S. Department of State, the defense bureaucracy, the intelligence services, "and all the rest." Trump wants to rid the government of the so-called "Deep State," entrenched bureaucrats trying to perpetuate their jobs.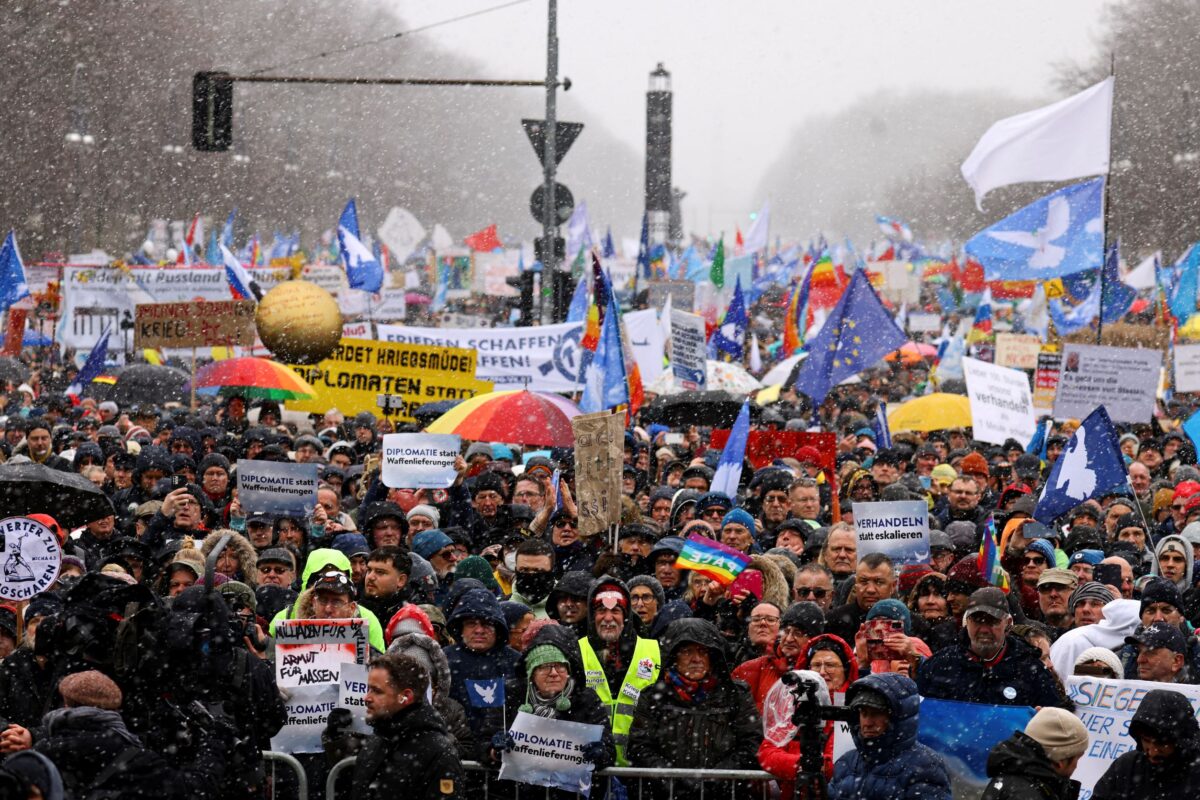 Anti-US Forces at Work
Trump said a key component to ensuring world peace would be to finish "reevaluating" NATO's mission.
"Our foreign policy establishment keeps trying to pull the world into conflict with a nuclear-armed Russia based on the lie that Russia represents our greatest threat," Trump said. "But the greatest threat to Western Civilization today is not Russia. It's probably, more than anything else, ourselves and some of the horrible, U.S.A.-hating people that represent us."
Instead of addressing globalists' havoc at home, Americans are being distracted by "monsters and phantoms overseas," Trump said.
He blamed Marxists for trying to transform America into "a godless nation worshipping at the altar of race and gender and environment."
The globalists have made the nation "totally dependent on China and other foreign countries that basically hate us," Trump said.
"These forces are doing more damage to America than Russia and China could ever have dreamed," he said. "Evicting the sick and corrupt establishment is the monumental task for the next president. And I'm the only one who can do it. I'm the only one that can get the job done."
Original News Source Link

Running For Office? Conservative Campaign Consulting – Monthly Rates!