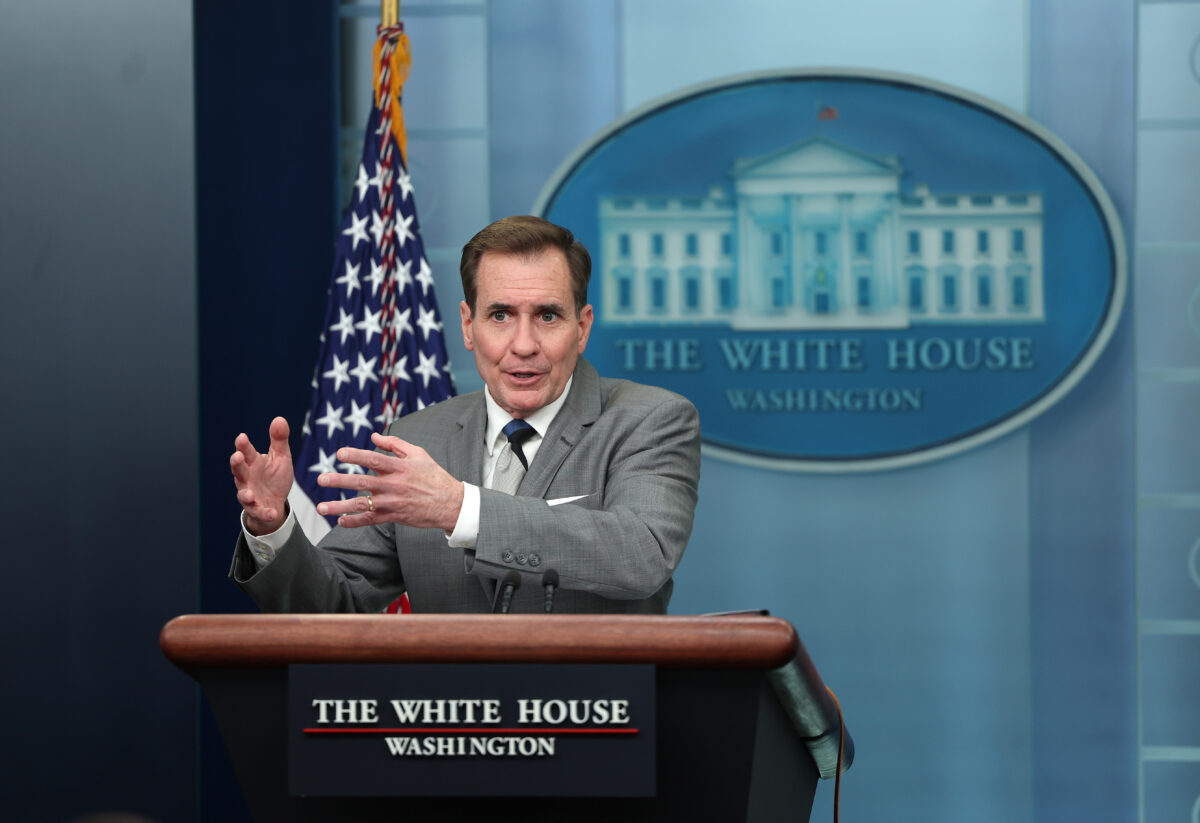 The White House is pushing back against the idea that the United States is stepping away from the Middle East following the announcement that Iran and Saudi Arabia have agreed to re-establish relations, in a deal brokered by the Chinese regime.
National Security Council Coordinator for Strategic Communication John Kirby told reporters on March 10 that he would "push back hard" against the idea the agreement, mediated with China's help, showed that the United States was pulling away from the region.
Kirby clarified that while the United States was kept informed about talks between Saudi Arabia and other parties, they were not directly involved.
Tehran and Riyadh announced their agreement on Friday following four days of previously unreported negotiations between top security officials from the two opposing Middle Eastern giants in Beijing. The two nations agreed to resume diplomatic relations and re-open embassies within two months, according to a statement issued by Iran, Saudi Arabia, and China.
"The agreement includes their affirmation of the respect for the sovereignty of states and the non-interference in internal affairs," the statement said.
China's top diplomat Wang Yi on Friday touted the agreement as a "victory for dialogue," according to a Chinese foreign ministry readout.
When asked about China's role in brokering the agreement, Kirby said that, "This is not about China."
"We support any effort to de-escalate tensions there in the region," he continued.
Kirby dismissed concerns about China's growing influence in the Middle East.
"As for Chinese influence [in the Middle East], or in Africa or Latin America, it's not like we have blinders on," he said.
"We'll certainly continue to watch China as they try to gain influence and foothold elsewhere around the world in their own selfish interest."
In the recently announced agreement, Saudi Arabia and Iran agreed to reactivate a 2001 security cooperation agreement, as well as an earlier agreement on trade, economics, and investment.
Both countries expressed gratitude to China, Iraq, and Oman for holding previous talks in 2021 and 2022.
Iran has been in the headlines in recent weeks since it was discovered that they have docked warships off the coast of Brazil.
The event, which took place between Feb. 26 and March 4, sparked concern among democratic nations in the region.
The presence of the warships, political and security analysts say, is a result of a new wave of leftist politicians that has swept across Latin America in recent years, including Brazil's new president.
According to experts, Iran appears to be delivering on its promise to moor warships in the Panama Canal by the end of 2023.
Brazil's former minister of foreign affairs, Ernesto Araujo, previously told The Epoch Times, "The big picture here doesn't look good."
Reuters contributed to this report.
Original News Source Link

Running For Office? Conservative Campaign Consulting – Monthly Rates!