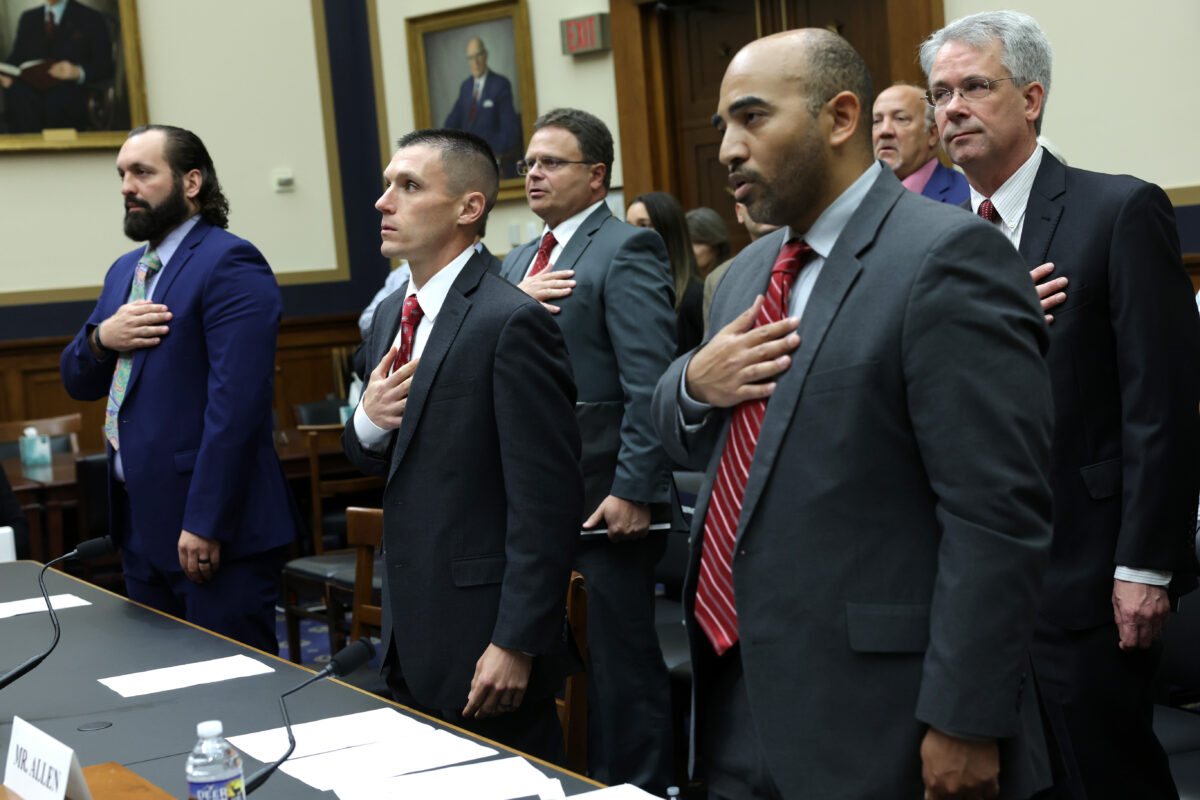 An FBI whistleblower alleged that the bureau has created an "Orwellian atmosphere" that has silenced dissent and retaliated against individuals who came forward with claims about the law enforcement agency.
During Thursday's House "Weaponization of Government" panel hearing, FBI Special Agent Garret O'Boyle said the bureau engaged in a "smear campaign" against him, adding in a later interview with Fox News there are many agents who support his allegations but are "too afraid" to speak out.
"Too many in the FBI aren't willing to sacrifice for the hard right over the easy wrong. They see what becomes of whistleblowers, how the FBI destroys their careers, suspends them under false pretenses, takes their security clearance and pay with no true options for real recourse or remedy," he said during last week's committee hearing. "This is by design. It creates an Orwellian atmosphere that silences opposition and discussion."
In response to a request for comment from The Epoch Times about the allegations, the FBI denied having acted in a retaliatory manner against whistleblowers. "The FBI's mission is to uphold the Constitution and protect the American people," an FBI spokesperson said last week. "The FBI has not and will not retaliate against individuals who make protected whistleblower disclosures."
O'Boyle, Special Agent Stephen Friend, Supervisory Intelligence Analyst George Hill, Staff Operations Specialist Marcus Allen, as well as unnamed whistleblowers, have alleged that the FBI is beset by politicization and top officials are targeting agents for having conservative political beliefs, according to a Judiciary panel report.
"I couldn't knowingly and silently continue on this path without speaking out against the weaponization I witnessed," O'Boyle said.
"All I wanted to do was serve my country by stopping bad guys and protecting the innocent," added later. "To my chagrin, bad guys have begun running parts of the government, making it difficult to continue to serve this nation."
The 78-page report by the House committee said that both O'Boyle and Friend were suspended indefinitely after making disclosures to Congress following their supervisors ignoring their concerns about possibly illegal conduct within the FBI. After being transferred from Kansas to Washington, O'Boyle was suspended during his first day on the job, he also said during the hearing, adding that he was forced to borrow clothing for his children as his family's belongings were allegedly locked away in an FBI facility.
Others testified about their personal struggles, including not being able to find employment elsewhere and struggling to support their loved ones and young children while their cases were being investigated. "I sacrificed my dream job to share this information with the American people," Friend testified. "I humbly ask all the members to do your jobs and consider the merit of what I have presented."
But Democrats dismissed the testimony, calling the hearing another attempt by Republicans on the committee to help former President Donald Trump.
"This select committee is a clearinghouse for testing conspiracy theories for Donald Trump to use in his 2024 presidential campaign," Rep. Stacey Plaskett (D-Virgin Islands), a non-voting member of the House who is the ranking member of the committee.
Another member of the committee, Rep. Daniel Goldman (D-N.Y.), a former House impeachment lawyer, questioned both Friend and O'Boyle about allegations of whether they received donations from former Trump official Kash Patel.
"My wife had lost her job and it was Christmastime. So I don't think that accepting charity is something I was proud to do," Friend said. "I think that any sort of allegation that I gave up a very lucrative career in order to accept a donation several months later from an individual who I've never met in my entire life is quite frankly laughable," he added.
Ahead of the committee meeting, FBI Acting Assistant Director Christopher Dunham said in a letter that claimed Friend refused to participate in a SWAT team arrest of a suspect in the Jan. 6 Capitol breach in Florida and had espoused an alternative narrative" about Jan. 6. Friend said that a SWAT team wasn't needed.
"I've arrested over 150 violent criminals in my career; I've never required a SWAT team to do it," Friend replied in response to questions from Rep. Debbie Wasserman Shultz (D-Fla.).
Dunham's report, which was first reported on by The New York Times, also alleged one of the whistleblowers "knowingly entered a restricted zone around the U.S. Capitol" and "was present in an area close to protestors clashing with Capitol Police" during the Jan. 6 breach.
That individual "remained in the restricted area even after what he believed was a deployment of tear gas and/or pepper spray, after witnessing protestors struggling with law enforcement trying to maintain barriers and eventually retreating due to protestor activity, and then immediately thereafter witnessing protestors climbing onto scaffolding. These actions showed a serious lack of judgment," the letter said. It also said the individual "failed to report his presence near the Capitol on January 6 to the Security Division, even after being warned by his supervisor to do so."
The Associated Press contributed to this repport.
Original News Source Link

Running For Office? Conservative Campaign Consulting – Monthly Rates!