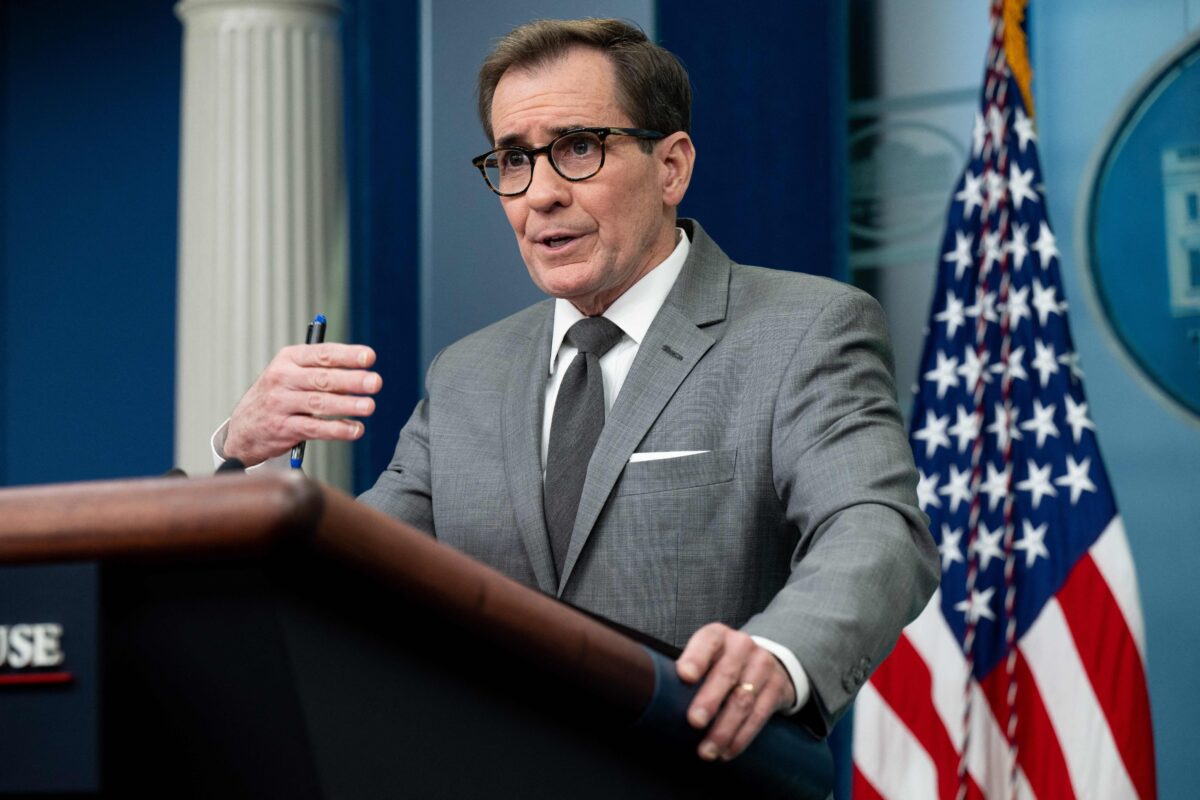 WASHINGTON—Chinese companies, including ones with direct links to the regime in Beijing, are reportedly sending assault rifles, body armor, and drone parts to Russia. Chinese firms have exported 1,000 assault rifles and other equipment to Moscow that could be used in the conflict with Ukraine, according to a new report by Politico.
When asked about these claims, White House National Security Council spokesman John Kirby said that there is no firm evidence that China is sending lethal weapons that could result in sanctions against the regime or Chinese entities.
"I've seen that press reporting, but I can't confirm that," Kirby told The Epoch Times. "We don't think that China has taken lethal assistance off the table, but we haven't seen firm confirmation that they're moving in that direction."
Based on data obtained from ImportGenius, a customs data aggregator, Politico reported that the shipments occurred between June and December 2022, with some passing through Turkey and the United Arab Emirates (UAE).
In June 2022, for example, Russian firm Tekhkrim imported rifles from China North Industries Group Corporation Limited, a large state-owned defense contractor. The data also showed that Russian companies received 12 shipments of drone parts and over 12 tons of body armor from China via Turkey in late 2022.
China is providing Russian companies with commercial items that could also be used in the war with Ukraine. However, it remains unclear whether Moscow is employing any of the rifles listed in the shipment records on the battlefield.
Chinese drone maker Da-Jiang Innovations (DJI) announced in April last year that it would suspend its business activities in both Russia and Ukraine as it opposed the use of civilian drones on the battlefield. According to the customs data, however, DJI sent drone parts to a small Russian distributor via the UAE in November and December 2022.
The company has been sanctioned by the U.S. Treasury Department since 2021 for supplying the Chinese regime with drones to surveil the Uyghur minority in the Xinjiang region.
It is unclear whether the Biden administration would regard these shipments as Beijing providing military assistance to Russia. Kirby echoed Secretary of State Antony Blinken's remarks when asked whether this would provide sufficient evidence to sanction China.
"There would be ramifications if they decided to provide lethal assistance. But again, we haven't seen them do that yet. And so, I don't want to get ahead of where we are," Kirby said.
The Biden administration has repeatedly expressed concern that communist China may provide lethal assistance for Russia's war against Ukraine.
On Feb. 19, Blinken warned that any attempt by China to provide Russia with "lethal support" for use in Ukraine would have serious consequences.
"We have seen them provide non-lethal support to Russia for use in Ukraine," Blinken said during an interview with CBS.
"The concern that we have now is based on information we have that they're considering providing lethal support, and we've made very clear to them that that would cause a serious problem for us and in our relationship."
Original News Source Link

Running For Office? Conservative Campaign Consulting – Monthly Rates!