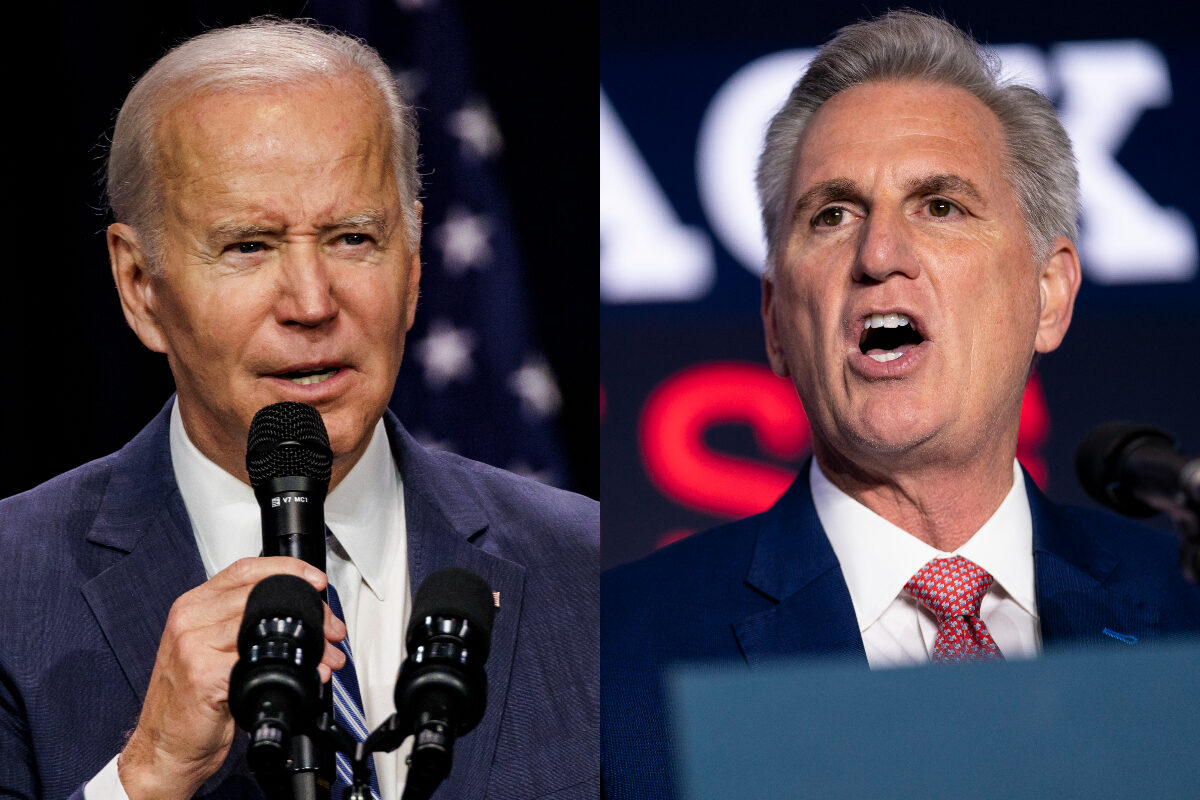 The White House remains optimistic about achieving an agreement on raising the nation's debt ceiling and preventing a default on the national debt.
"[President Joe] Biden and [House Speaker Kevin] McCarthy [(D-Calif.)] had a productive meeting on Monday. Just moments ago, the White House negotiators ended their meeting; they met for hours. And so they're going to be returning and give the president an update," Karine Jean-Pierre, White House press secretary, said on May 23.
Rep. Patrick McHenry (R-N.C.) told reporters, "We still have significant differences on spending," indicating at least one item that remains a sticking point.
At issue have been demands by Republicans to limit the total of 2024 federal discretionary spending to the 2022 level, limit spending increases to 1 percent annually, increase work requirements for some recipients of Medicaid and the Supplemental Nutritional Assistance Program, claw back unspent COVID-19 funds, and loosen permitting requirements for oil and gas.
However, McCarthy said he considers only two items non-negotiable.
"From the first day I sat with the president, there have been two criteria. I told him we're not going to raise taxes," McCarthy said at a May 22 press conference. "And we're not going to pass a clean debt ceiling."
"Everything else is open for negotiation. But at the end of the day, it has to fit in that place."
Asked whether Democrats have a "spending problem," as McCarthy indicated in comments on May 22, Jean-Pierre said simply, "No."
"The president's budget reduces the deficit, as you know, by nearly $3 trillion over 10 years," Jean-Pierre added.
"This is a president that believes in dealing with the deficit in a real way, that's on top of the $1.7 trillion that the president has been able to reduce the deficit the last two years," she said, going on to list various measures the president has proposed that he said would save some $230 billion.
Biden and McCarthy have both stated they will not allow the country to default on its debt. However, the matter has taken on urgency as the calendar approaches June 1. That is the earliest date on which a default could be possible, according to U.S. Treasury Secretary Janet Yellen.
"I can say there's an urgency. We'd like to see this done as soon as possible," Jean-Pierre said. "The teams are going to meet on a regular basis … We see this conversation moving in a productive way. That is important."
McCarthy said on May 22 that it is still possible to reach an agreement that can pass both houses of Congress in time to avoid a default.
Original News Source Link

Running For Office? Conservative Campaign Consulting – Monthly Rates!