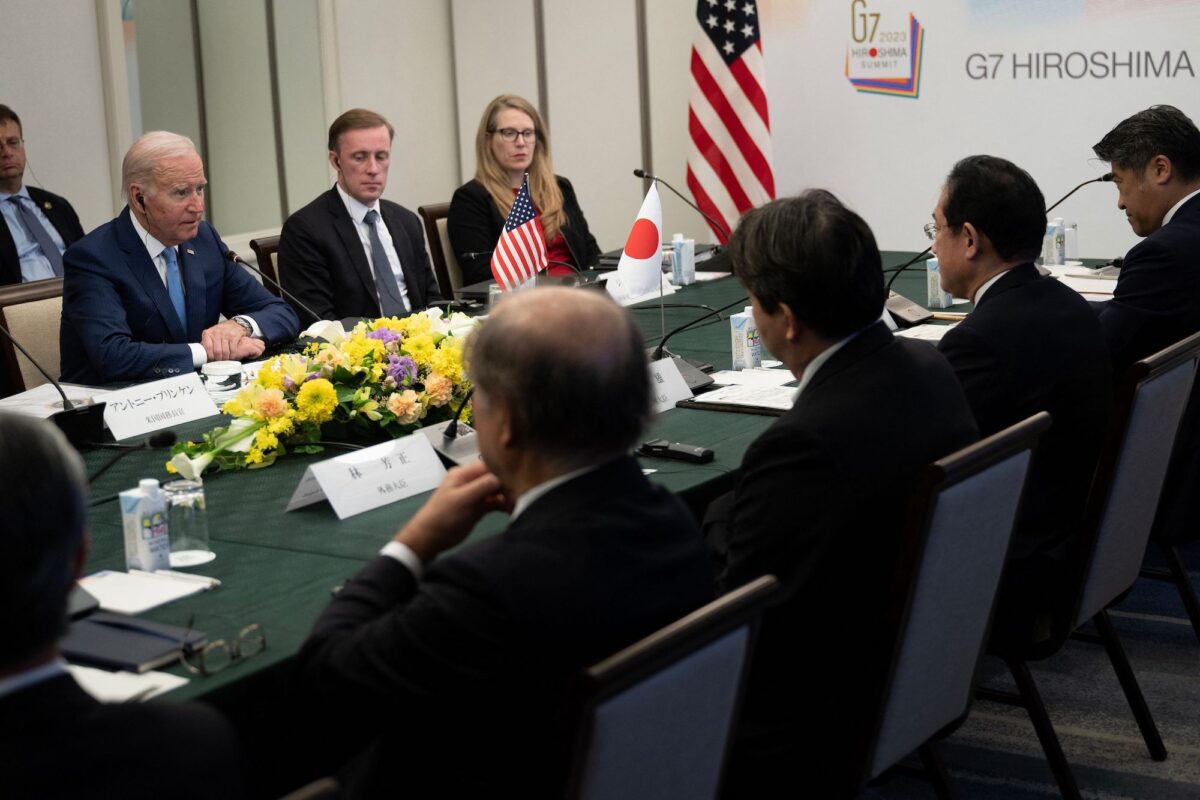 White House press secretary says 'the stakes could not be higher' with looming debt default risk
HIROSHIMA, Japan—President Joe Biden has addressed U.S. debt limit concerns at the G-7 Summit in Japan, seeking to assure world leaders of his capability to navigate negotiations and prevent a historic default on the United States debt, according to U.S. national security adviser Jake Sullivan.
At a press briefing in Hiroshima, one of two Japanese cities devastated by U.S. atomic bombs in 1945, Sullivan told reporters that the debt limit negotiations between the White House and House Republicans are "definitely a subject of interest here at the G-7."
"You know, countries want to have a sense of how these negotiations are going to play out, and the president has expressed confidence that he believes that we can drive to an outcome where we do avoid default," he said.
Sullivan sought to provide assurances that the looming threat of the United States defaulting on its debts for the first time in U.S. history "is not generating alarm" at the G-7 talks as the negotiations started and stopped on Friday in Washington, D.C.
"I would just say countries are keenly interested in what is a significant story, and the president has been able to tell them that he believes that we can get to a good result here," Sullivan said.
As soon as June 1, the United States may be unable to pay its bills, which would send shockwaves across the global economy. Republicans and Democrats are pushing to reach a deal on the country's borrowing limit before the deadline.
Republicans are advocating for substantial and longer-term spending reductions, arguing the nation's deficit spending needs to roll back to fiscal year 2022 levels and restrict the growth of spending. Meanwhile, Biden's priorities are continuing economic progress, investing in the future, cutting wasteful spending, and reducing the deficit.
Speaking from Hiroshima, White House press secretary Karine Jean-Pierre said Saturday local time that the two parties have "serious differences," while in Washington, D.C., negotiations were "paused" late Friday.
White House @PressSec on debt ceiling talks at #G7Summit :
"There's no question we have serious differences and this is going to continue to be a difficult conversation. That's not lost on us. But the President's team is going to continue to work hard for a reasonable… pic.twitter.com/SXlQt8YSC6

— Emel Akan (@mlakan) May 20, 2023
'The Stakes Could Not Be Higher'
During the press briefing in Hiroshima, Jean-Pierre emphasized the high stakes involved in the ongoing debt limit negotiations, warning that a default would lead to a recession and potentially cost millions of Americans their jobs and retirement savings.
"The stakes could not be higher," she said. "A default would plunge our economy into recession. Economists estimate that millions of Americans would … could lose their jobs. Hard-working families could lose their retirement savings."
Jean-Pierre called for a "reasonable bipartisan solution" and criticized wasteful spending, urging Republicans to work toward an agreement. She expressed hope for good-faith negotiations from House Speaker Kevin McCarthy's team.
"So look, there's no question we have serious differences, and this is going to continue to be a difficult conversation—that's not lost on us—but the president's team is going to continue to work hard towards a reasonable bipartisan solution that can pass the House and the Senate," the press secretary said.
Jean-Pierre pointed to the budget proposal released by Biden on March 9, which aims to reduce the deficit by $3 trillion over a decade through measures such as cutting wasteful spending, particularly on subsidies for the profitable Big Oil industry.
"If Republicans in Congress were serious about cutting the deficit and about finding … a reasonable bipartisan agreement that can reach the president's desk, they'd be looking at cutting that kind of unnecessary wasteful spending," she added.
'You Can't Keep Raising the Debt Ceiling'
Washington has to spend less.

It's as simple as that.

— Kevin McCarthy (@SpeakerMcCarthy) May 19, 2023
Republican negotiators expressed less optimism than Biden about reaching a budget deal to avert a default.
Rep. Patrick McHenry (R-N.C.), a key negotiator, expressed doubt when asked if a deal was possible. Rep. Garret Graves of Louisiana said on Friday they had a "very candid discussion" with Biden's team during brief talks.
Resolving the impasse, according to McCarthy, would be "easy" if Biden's team agreed to the spending cuts demanded by Republicans.
"You can't keep raising the debt ceiling," McCarthy told Fox News on Friday. In further comments on Twitter, he said: "The national debt is like a credit card. Year after year after year, Washington keeps hitting the limit, so they just keep expanding it. Now, America's credit card debt is higher than what we make in an entire year."
"Washington has to spend less. It's as simple as that," McCarthy said on Twitter on Friday. He called for movement from the White House, indicating a need to pause negotiations until progress is made.
"We've got to get movement by the White House and we don't have any movement yet," McCarthy told reporters at the Capitol. "So, yeah, we've got to pause."
Democrats strongly oppose spending reductions, seeing them as potentially harmful.
The White House has not disclosed the specific points of contention between the two sides in the negotiations.
Some Democrats criticize Biden's accommodation of spending cuts, fearing their impact on domestic programs. The idea of raising the debt ceiling unilaterally under the 14th Amendment has been suggested by certain Democrats, but legal concerns and Biden's hesitancy remain.
After pausing talks on Friday, McCarthy told Fox News on Friday night, "We'll be back in the room tonight."
Biden will return early from Japan as previously announced so that, as Sullivan said, "he can help lead the effort to bring it home."
The Associated Press contributed to this report.
Original News Source Link

Running For Office? Conservative Campaign Consulting – Monthly Rates!