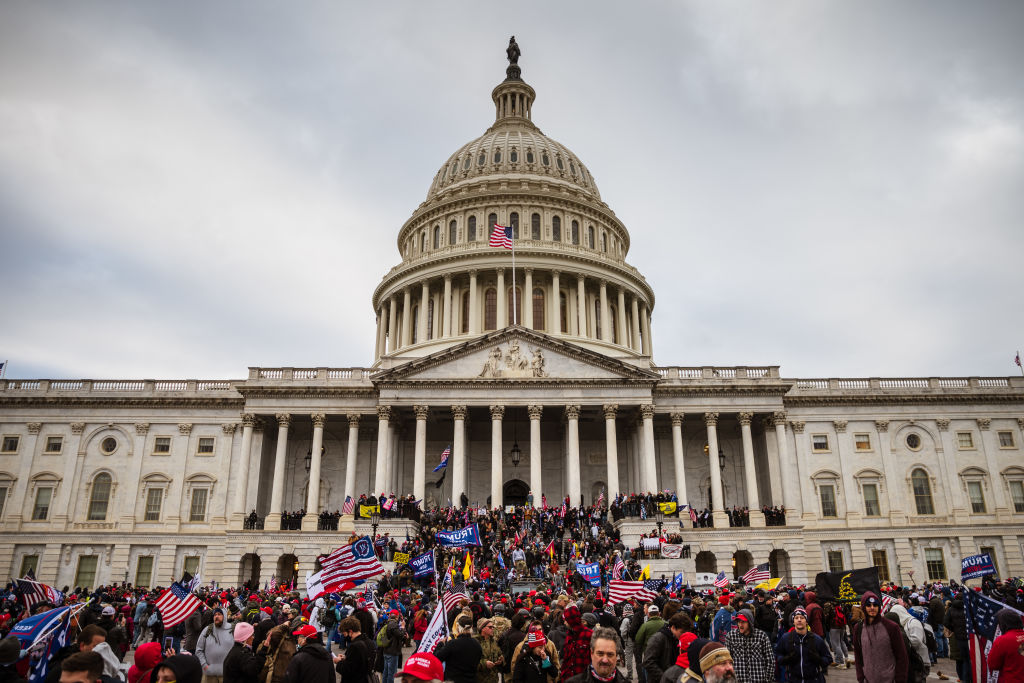 New security footage of the Jan. 6 Capitol breach that aired Monday on Fox News' "Tucker Carlson Tonight" has left many, including Carlson himself, questioning the Biden administration's depiction of the incident as an "insurrection."
But while Carlson felt most of the Capitol protesters would be more accurately described as reverent "tourists," the White House put forth a different perspective on Tuesday.
"Anybody who watched that video would strongly disagree," said White House Press Secretary Karine Jean-Pierre at a March 7 press briefing.
"The president has been very clear. Jan. 6 was the worst attack on our democracy since the Civil War, and we should be focused on making sure that never happens again."
Jean-Pierre's comments tracked with those of Attorney General Merrick Garland, who was also asked by reporters for his reaction to the security footage on Tuesday.
"So, I don't want to comment on any particular reports," Garland noted. "I think all Americans saw what happened on Jan. 6, and most of us saw it as it was happening. It was a violent attack on a fundamental tenet of American democracy—that power is peacefully transferred from one administration to another.
"Over 100 officers were assaulted on that day," he added. "Five officers died. We have charged more than 1,000 people with their crimes on that day and more than 500 have already been convicted. I think it's very clear what happened on Jan. 6."
The footage in question challenged multiple prevailing narratives about Jan. 6, including the oft-repeated claim that U.S. Capitol Police (USCP) Officer Brian Sicknick was "slain" by the mob of protesters.
"The video we reviewed proves that is a lie," Carlson said in his Monday night report, showing footage of Sicknick walking around the Capitol, seemingly healthy, after the time he was reported to have been injured.
In April 2021, the Washington Medical Examiner's Office ruled Sicknick's death to be due to "natural causes" from strokes he suffered on Jan. 7, 2021. No evidence of internal or external injuries was found, yet the examiner's office told The Washington Post, "All that transpired played a role in his condition."
Another topic Carlson homed in on was Jacob Chansley, the so-called "QAnon Shaman" who was sentenced to 41 months in prison for "obstructing an official proceeding." According to the surveillance video, however, Chansley was peacefully escorted around the Capitol by police.
The footage shown was just a small excerpt of the thousands of hours of film to which the Fox News host was granted exclusive access by House Speaker Kevin McCarthy (R-Calif.). And while some have criticized the speaker's decision to do so, former President Donald Trump did the opposite on Tuesday.
"Great courage shown by Speaker of the House Kevin McCarthy in releasing the surveillance footage to Tucker Carlson so that our Country, and indeed the World, can see what really went on during the January 6th events," Trump wrote in a Truth Social post. "A whole new, and completely opposite, picture has now been indelibly painted.
"The Unselect Committee LIED, and should be prosecuted for their actions," he added. "Nancy & Mitch were a disaster on Security. Thank you Kevin and Tucker. FREE AT LAST!!!"
Original News Source Link

Running For Office? Conservative Campaign Consulting – Monthly Rates!