The Biden administration turned up the heat on budget ceiling negotiations set for May 16 by releasing a pair of statements highlighting the urgency of a possible default on the nation's financial obligations and detailing the spending cuts necessary to meet Republican budget targets.
Treasury Secretary Janet Yellen had notified Congress on May 15 that the Treasury would lack the funds to meet all U.S. financial obligations by "early June, and potentially as early as June 1" if the debt ceiling were not increased. She raised the temperature further in remarks to a group of independent community bankers on May 16.
"In my assessment—and that of economists across the board—a U.S. default would generate an economic and financial catastrophe," Yellen said.
"We are already seeing the impacts of brinksmanship: Investors have become more reluctant to hold government debt that matures in early June. And the impasse has already increased the debt burden to American taxpayers—as the leaders of the Treasury Borrowing Advisory Committee said last week," she added.

"The U.S. economy hangs in the balance. The livelihoods of millions of Americans do, too. There is no time to waste. Congress should address the debt limit as soon as possible."
President Joe Biden and House Speaker Kevin McCarthy (R-Calif.) have been in a standoff over the $31.4 trillion debt ceiling since January. Biden has insisted that it must be raised without condition to preserve the full faith and credit of the United States. McCarthy has said there will be no increase without an agreement to cut spending. Republicans have proposed lowering discretionary spending to the 2022 level while increasing spending for defense, veterans affairs, and homeland security.
Less than 24 hours after Yellen's letter to Congress, Shalanda Young, director of the Office of Management and Budget, issued a memo stating that the GOP plan would require cutting nearly all non-defense discretionary spending by nearly one-third.
Young said Republicans appear to be withholding information about their proposal but that their position will become clear when appropriations bills are released next week.
"House Republicans are likely hoping that by releasing the first few appropriations bills without enormous cuts, they will avoid having to defend the unrealistic and damaging positions they support. But the opposite is true," Young wrote.
"Next week, those first few bills will make it plain and inescapable that Republicans do, indeed, support enormous and unpopular cuts to vital services and investments. House Republicans may protest, but the math is what the math is."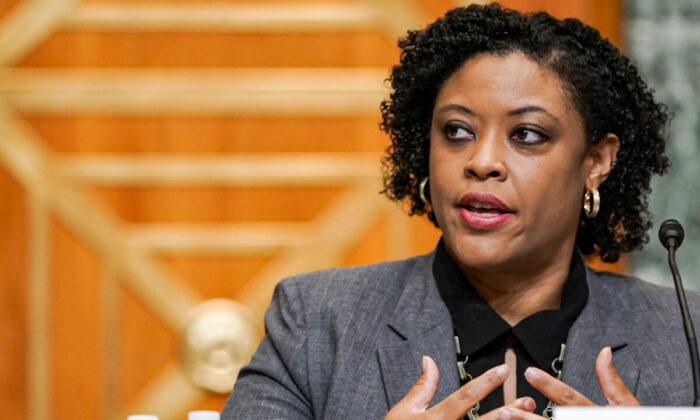 According to Young's analysis, the GOP plan calls for an overall 9 percent decrease in discretionary spending. That would reduce all discretionary spending from $1.61 trillion in 2023 to $1.47 trillion in 2024. At the same time, the plan calls for increases in defense spending, military construction and veterans affairs, and homeland security. Those areas would increase from a total of $1.02 trillion in 2023 to $1.05 trillion in 2024.
To achieve the overall 9 percent reduction from $1.61 trillion to $1.47 trillion, all other discretionary spending categories would have to be reduced from $602 billion in 2023 to $421 billion, a decrease of 30 percent, according to Young.
That would mean cutting funding for schools with low-income students and students with disabilities, a possible reduction of teaching staff members by up to 150,000, the elimination of opioid treatment for some 30,000 people, increased housing costs for 800,000 households, and a reduction in rail safety inspections, Young said.
Biden and McCarthy are scheduled to meet on May 16 for a second round of negotiations to resolve the impasse between the two parties. They will be joined by Vice President Kamala Harris, Senate Majority Leader Chuck Schumer (D-N.Y.), Senate Minority Leader Mitch McConnell (R-Ky.), and House Minority Leader Hakeem Jeffries (D-N.Y.).
Original News Source Link

Running For Office? Conservative Campaign Consulting – Monthly Rates!