News Analysis
Even many who dislike Nancy Pelosi and her politics admit she knows how to lead, cultivate consensus, persuade, network, and intimidate to get things done.
Enemies and opponents of the former House Speaker also concede she can raise money—lots of money.
No one in the history of the Democratic Party has brought cash like Pelosi.
According to PunchBowl News, in the two decades that Nancy Pelosi was the leader of Democrats in the House, she raised a mountain of money—$1.6 billion.
Pelosi has a long and deep network of influential and wealthy personal, professional, and political people across all sectors of society to whom she reached out and solicited for the fuel and force that wins elections.
Tutoring and Guiding Her Successor
Now, having handed the speaker's gavel to GOP Majority Leader Kevin McCarthy and willingly given up her position as House Democratic leader, Pelosi has appointed herself as a fundraising mentor and liaison to House Minority Leader Hakeem Jeffries.
Indeed, last week, with Congress not in session, Pelosi guided and accompanied Jeffries on a tour of the Golden State, with a primary agenda of meeting donors and drumming up cash with stops in San Francisco, the city of Pelosi's primary residence, and then on to the Los Angeles area.
As the entertainment news outlet Deadline reported, their itinerary included a fundraiser this past Friday at the home of a husband-and-wife couple with tremendous pull and influence in Hollywood: TV producer and entertainment executive Byron Allen and TV producer and writer Jennifer Lucas.
The deadline story noted that "Minority Whip Katherine Clark and Caucus Chair Pete Aguilar" were also scheduled for the "event, which is being billed as a 'DCCC Political Update,' and "organized by the Democratic Congressional Campaign Committee."
A "powerhouse on the fundraising circuit" is how Deadline described Nancy Pelosi.
Pelosi—who was designated "Speaker Emirita"at the end of November by the House Democratic Steering and Policy Committee—will surely continue to play an important and inside role in fundraising for the Democratic Party.
Jeffries Takes Initiative
Jeffries, the first black speaker of the U.S. House, has already shown ability and initiative in fundraising. An example is when, as the voting process played out to elect a speaker and Republicans were unable to get the job done after several votes, Jeffries emailed a fundraising pitch for his party.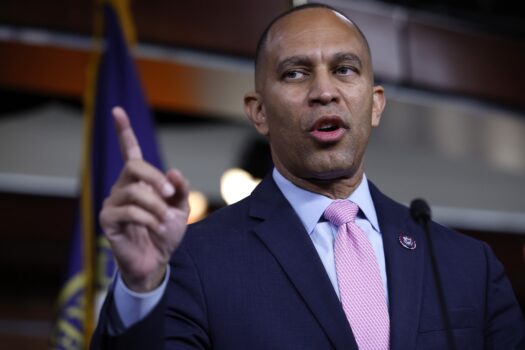 "I'll be blunt: Republicans are incapable of governing," Jeffries wrote in the pitch. "And they're putting politics over the American people. But if Democrats stick together in this historic moment, we have an opportunity to show how powerful we are.
"I still need 321 more donations to show that Democrats are united and ready to lead our country. Please, help me reach this important goal by 11:59 PM. I'm counting on you. Keep the faith, Hakeem."
Led By McCarthy, GOP House Find Its Stride as Biden Admin Faces Serious Problems
The Republican Party secured the votes for Kevin McCarthy to become speaker—and Hakeem Jeffries knows that is one reason among many that it is particularly critical that he ramp up fast as a fundraiser.
With the speaker drama behind them, the GOP can now focus on passing bills and leading from the lower chamber of Congress.
And Republicans don't want to make life easy for their colleagues across the aisle.
Rep. James Comer of Kentucky, chairman of the House Committee on Oversight and Accountability, has already announced an investigation into the Biden administration's handling of the illegal immigration crisis at the southern border.
As well, of course, Democrats face a potential catastrophe as more classified documents are discovered at President Joe Biden's home and at the Penn Biden Center for Diplomacy & Global Engagement.
And then, there is Speaker McCarthy himself—another fundraising all-star and juggernaut.
A Fox News story published on election day 2022 reported the jaw-dropping haul of McCarthy's "midterm fundraising machine," which "raked in roughly $500 million for himself and his party this election cycle."
According to the report, the "McCarthy-aligned Congressional Leadership Fund scooped up $342 million in donations throughout the cycle, reportedly blowing out their 2020 fundraising efforts by more than $100 million."
Nancy and Paul Pelosi and Their Money
An asset to Nancy Pelosi in her efforts to wring big bucks out of the Democratic and left-leaning moneyed class is that she and her husband of more than 60 years, Paul Pelosi, are members of that class and have been for a long time. Paul Pelosi is the owner and operator of Financial Leasing Services, Inc., a real estate and venture capital firm based in San Francisco.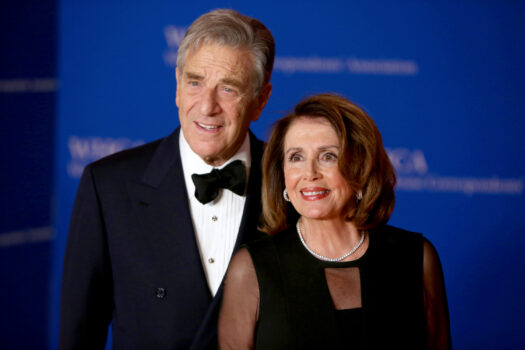 Pelosi's wealth is tied to her husband's business and has risen considerably during her time in Congress and has done so while her husband fended off allegations that he used inside information obtained from his wife's positions as speaker to make investment decisions and purchases.
An Oct. 2, 2022, Washington Free Beacon estimated Nancy Pelosi's net worth at $171.4 million in 2021. Also reported in the story was that Pelosi's "estimated net worth skyrocketed at the onset of the Great Recession, going from $31.4 million in 2008 to $101 million in 2010, a 220 percent increase in a window where the S&P 500 decreased by 13 percent."
Views expressed in this article are the opinions of the author and do not necessarily reflect the views of The Epoch Times.