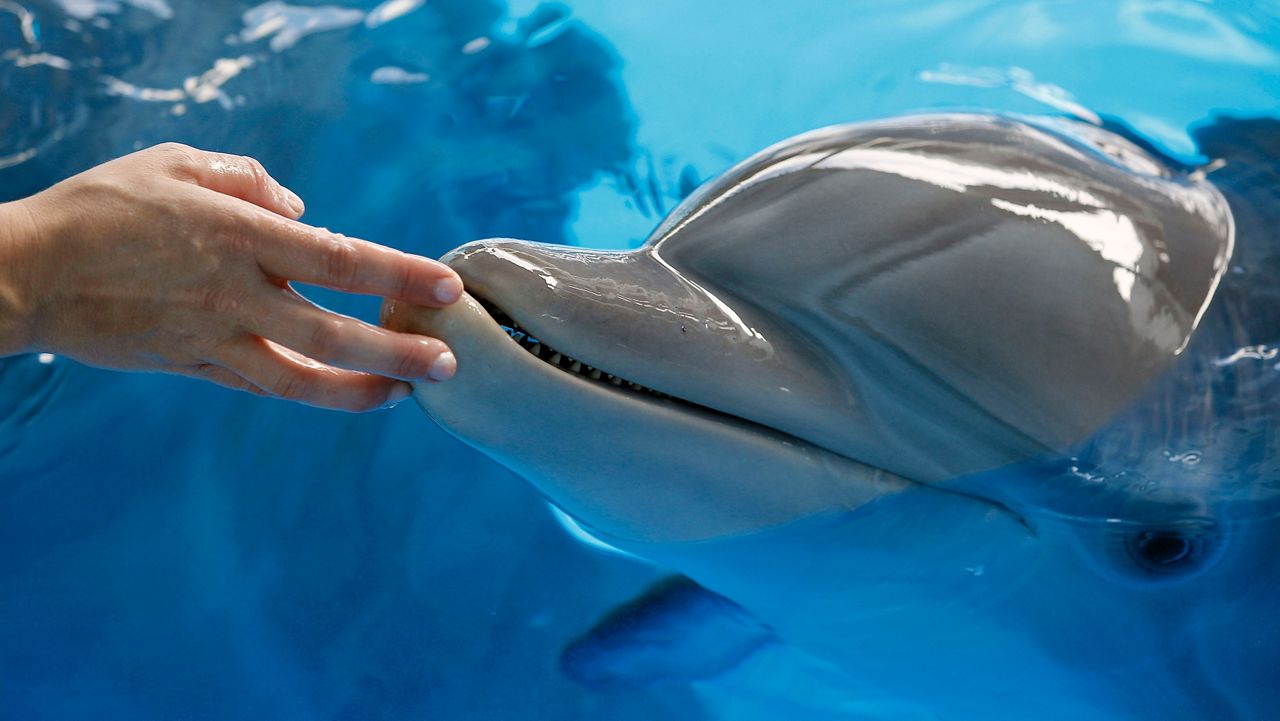 CLEARWATER, Fla. — Winter the Dolphin, the Clearwater Marine Aquarium's main attraction and the star of the film "Dolphin Tale," has passed away at the age of 16. Winter was battling a possible gastrointestinal infection.
With heavy hearts, CMA announced tonight that Winter the Dolphin died at approximately 8 p.m. as animal care experts from around the country worked to treat her gastrointestinal abnormality. The CMA family is devastated.

Read more: https://t.co/23pbetCu1l pic.twitter.com/39KUcf2jpv

— Clearwater Aquarium (@CMAquarium) November 12, 2021
The aquarium said Winter's condition was determined to be "critical" Wednesday evening, and she was receiving treatment from some of the top veterinary specialists in the nation who were exploring all avenues to save her life.
Winter was widely known for her prosthetic tail. She was first found in the waters of the Florida coast back in 2005 when she was caught in a crab trap. The circulation to her tail was cut off, eventually leading to its loss as she recovered at the Clearwater Marine Aquarium. Winter was just two-months-old.
Unable to really swim, Winter's health continued to fade. David Yates, the CEO of the aquarium at the time, recalled the advice his team was given.
"Just about everyone we talked to in the marine industry at that time advised us listen, these dolphins don't survive this, it's not going to go well so the bottom line is we suggest, and it was a pretty strong suggestion by multiple individuals to euthanize," Yates said.
But CMA's mission is to rescue and they weren't giving up on the two-month-old dolphin just yet. Not to mention, Winter had an undeniable spunk and she wasn't giving up either.
The solution was a prosthetic tail — the first of its kind.
Soon, Winter was thriving and her story was so inspirational, it became the basis for the movies "Dolphin Tale" and "Dolphin Tale 2." When the first movie came out, Winter shot to stardom. She of course played herself in the film, alongside some big names like Morgan Freeman, Ashley Judd and Harry Connick Jr.
In no time, fans began flocking to Clearwater.
"It gave us worldwide recognition," said Clearwater Mayor Frank Hibbard. "And we literally had people coming from New Zealand, Australia and Europe. All over the globe to see Winter."
But perhaps the most magical part of it all was the smiling faces of those there to meet her. Thousands upon thousands of families visited over the years, with personal stories of their own, including disabled children who were able to see a bit of themselves in Winter.
"They saw this young dolphin who refused to give up and said, 'You know what, if this dolphin can do this, I can do this,'" said Yates.
And that will be a big part of Winter's legacy, along with the aquarium as we know it today.
"Her tail prints are all over the aquarium forever," Hibbard said.
Serving as a reminder of Winter's fighting spirit that will continue to inspire for years to come.​