Another setback for Canadians who aspire to look cool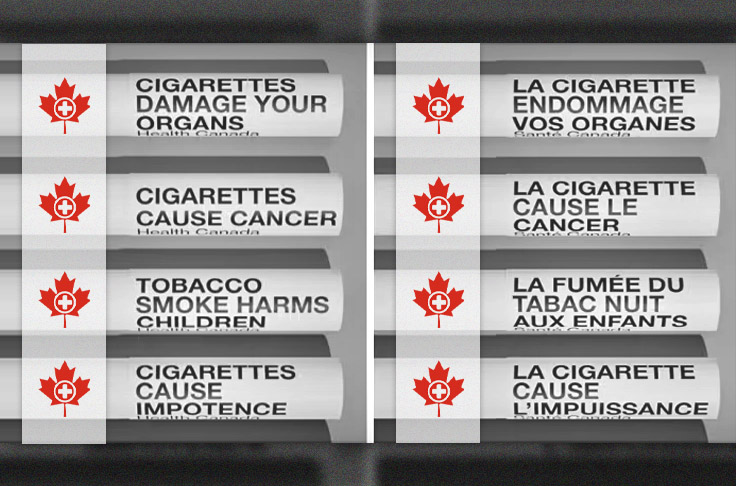 What happened: Canada is about to become the first country in the world to mandate health warnings on individual cigarettes.
• The new regulations, announced last year by the Canadian health care bureaucracy, take effect in August and will be phased in through 2025.
• Canada already requires cigarette packs to be covered in health warnings and graphic images of cancer patients. The additional warnings will include phrases such as "Cigarettes may damage your organs," "Tobacco smoke harms children," and "Cigarettes cause impotence."
• The warnings will appear in English and French, the language most commonly associated with looking cool while smoking a cigarette.
What they're saying: "This bold step will make health warning messages virtually unavoidable," said Carolyn Bennett, Canada's minister of mental health and addictions.
• We'd like to meet the Canadian smoker who is not deterred by the pictures of neck tumors, stroke victims, and corpses, but is inspired to quit smoking after reading "Poison in every puff" on the butt of an individual cigarette.
Why it matters: Canadians, even the ones who smoke cigarettes, will never be as cool as Americans. This "bold step" will make it even harder for them to pretend otherwise.
Bottom line: Canada is the lamest country in the world—and always will be.
READ MORE:
The Ten Best Cigarettes in the World
Up in Smoke: Black Activists Slam Kathy Hochul for Proposed Menthol Cigarette Ban
Original News Source

Running For Office? Conservative Campaign Management – Election Day Strategies!