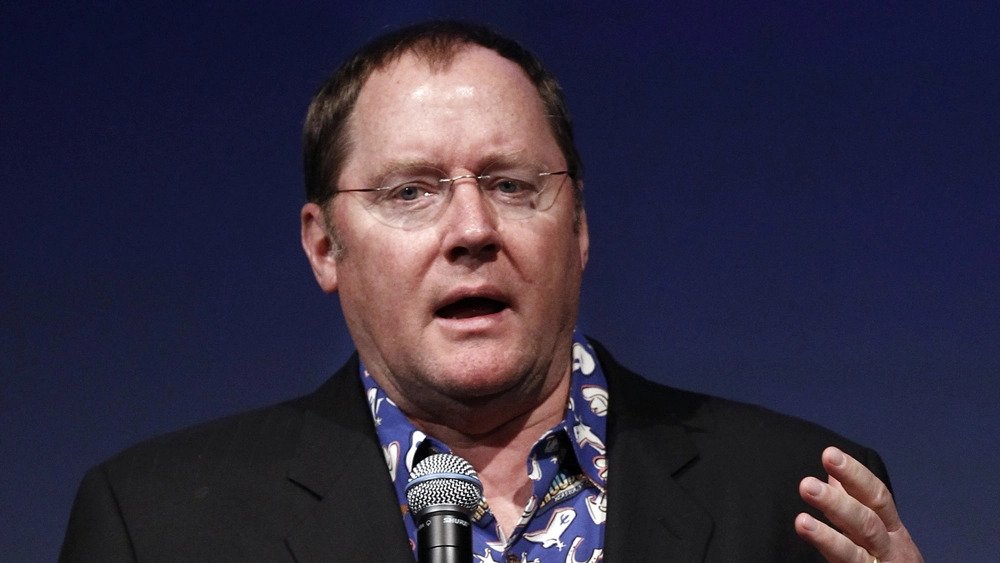 Honestly Lassiter seems to have been at fault, however it seems like he was living over the line because he was 'too valuable' and nobody wanted to tell Pixar's golden child that he was consistently going too far. I hope what's happened is that he's gone through therapy and gotten himself together and realized that just because women don't complain immediately when he touches them, his touch is still generally going to be unwanted.

It's not hard to learn to stop touching people. It can be hard for some people to learn that other people are allowed to say no.
He made a statement to the employees at SkyDance:
https://deadline.com/2019/01/john-lasseter-skydance-town-hall-apology-sexual-harassment-1202534949/
The allegations have been described as "grabbing, kissing, making comments about physical attributes":
https://www.hollywoodreporter.com/news/general-news/john-lasseters-pattern-alleged-misconduct-detailed-by-disney-pixar-insiders-1059594/
There was another issue here that doesn't get reported much. Some of this movement was about the perception that Pixar had a boys' club that was excluding underrepresented groups and this is reflected in Lasseter's apology at SkyDance. Some of the people who were reported to have left due to unwanted advances clarified that they left due to this difference of opinion about representation. Lasseter was made to undergo unconscious bias training.
"We did not leave Pixar because of unwanted advances. That is untrue. That said, we are happy to see people speaking out about behavior that made them uncomfortable. We parted ways because of creative and, more importantly, philosophical differences." They described Pixar as "a culture where women and people of color do not have an equal creative voice," adding, "We encourage Pixar to be leaders in bolstering, hiring and promoting more diverse and female storytellers and leaders."
He must have been seen as a barrier to underrepresented groups being promoted to directors and some wanted him out of the way. It seems like a lot of the allegations were exaggerated to portray Lasseter as a Weinstein character but nothing that has been reported suggests anything close to this.
What some underrepresented groups consider to be bias could have been a difference of opinion over what makes good content. Netflix recently scrapped a lot of this type of content when their stock value dropped:
https://www.theblaze.com/news/report-netflix-scraps-multiple-woke-projects-for-creative-reasons-including-antiracist-baby-and-stamped-racism-antiracism-and-you
One of the problems with this type of content is the authors make the stories about themselves. Entertaining content is there to entertain the audience and not be a vehicle for a creator's own interests. Another problem is that people who make this content think that focusing on representation automatically gives the content enough merit to be good and it doesn't. Most of this material is low quality and even the progressive companies unconsciously acknowledge this because they put this content in the background like Marvel movies relegated this to after the big movies have been done and they are out of ideas.
50 people followed Lasseter to SkyDance and there were no allegations that resulted in settlements.
https://www.hollywoodreporter.com/movies/movie-features/john-lasseter-skydance-animation-luck-1235186710/
"Since Lasseter arrived, Skydance Animation has grown from 65 employees to nearly 900, acquired the animation unit of Madrid-based Ilion Studios (Wonder Park, Planet 51), and set a multiyear film and TV deal with Apple. Lasseter has also lured some of Pixar and Disney's top, Oscar-winning talent, including The Incredibles director Brad Bird, who is at work on his movie Ray Gunn for Skydance; Zootopia director Rich Moore, who signed an exclusive deal with the studio this spring; and Beauty and the Beast composer Alan Menken, who is writing the music for the studio's sophomore feature, Spellbound."

One of the people who wasn't happy with his hiring at SkyDance said the following:
https://twitter.com/ashlynanstee/status/1161690648157646849?lang=en
https://www.hollywoodreporter.com/news/general-news/john-lasseters-return-hollywood-divides-animators-1175137/
"When a company hires somebody like that, that's a red flag that it's going to be a boys' club."
"I love consulting for preschool properties or adding female voice in the room."
"I'm less angry now," says Ashlyn Anstee, a director at Cartoon Network. "It's more letting a so-called creative genius continue to take up positions and space in an industry that could begin to be filled with different people. I wish the leadership above Lasseter would take a look at what they're valuing and what they're willing to take a chance on."
A few of Disney's recent animations:
https://www.dailywire.com/news/new-woke-disney-junior-show-includes-song-about-racial-micro-aggressions-targeting-preschoolers
https://disneyplusoriginals.disney.com/show/the-proud-family-louder-and-prouder
https://www.metroweekly.com/2022/06/disneys-strange-world-features-gay-teen-romance/
Some of these are worked on by Lasseter's replacements.
https://www.dailywire.com/news/i-just-couldnt-lie-anymore-conservative-disney-producer-explains-why-he-finally-left-the-ultra-woke-company
"Disney reportedly compelled its employees to attend various training sessions, where Daws recounts that he was told, "as a white, straight, male, I should be quiet and listen." Even more so, he says he was told that "promotions would be on hold for the white men on the team" and to "start casting non-binary children for our photo and video shoots. That was the last straw," he said."
"All I can tell you is it's a political move, no link with
#MeToo
," one person told TheWrap. "It's the perfect excuse to fire a great leader."
It's not all one or the other, there was acknowledgement of bad behavior but it has clearly been exaggerated and there was more to his firing than what has been portrayed.