Democrats aim to defeat Florida's Republican Governor Ron DeSantis in his reelection bid in November, but with less than 48 hours until the Florida primary, it's unclear which Democratic contender will take on the GOP incumbent who looks well-positioned to win a second term.
DeSantis has emerged as one of the most prominent Republicans on the national stage. His response to the COVID-19 pandemic and his efforts to lean into the culture wars through controversial policies and legislation have drawn backlash from Democrats and some moderate Republicans. Meanwhile, polling suggests that DeSantis is a strong 2024 presidential contender, particularly if former President Donald Trump is not in the race.
As a result, Democrats hope to handicap the GOP governor by ousting him via the ballot box in November from the Governor's Mansion in Tallahassee. With Florida's primary taking place on Tuesday, recent polls show mixed results as to which Democrat is favored to take on DeSantis.
The leading Democratic gubernatorial contenders are Florida Commissioner of Agriculture Nikki Fried and Congressman Charlie Crist, who represents Florida's 13th District. Notably, Crist previously served one term as Florida's governor from 2007 to 2011. He was elected as a Republican, but became an independent in 2010 before joining the Democratic Party in 2012.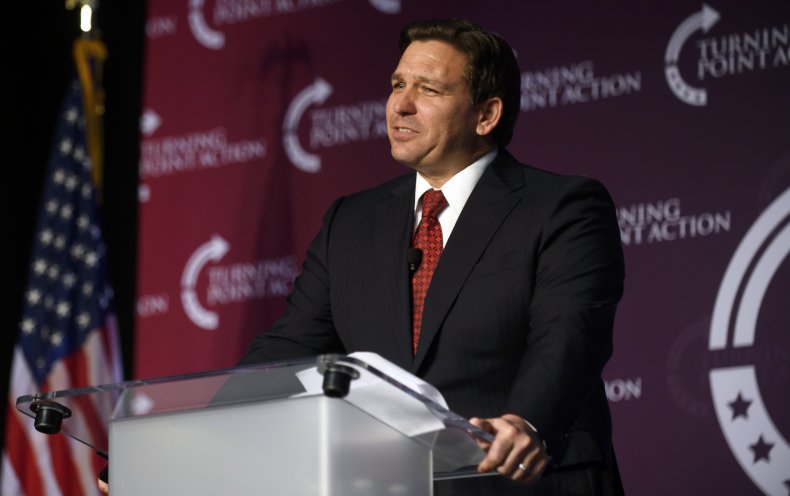 The most recent public poll for the Democratic primary was conducted by the University of North Florida from August 8 to 12. It showed Fried ahead of Crist by 4 points. The agriculture commissioner had the support of 47 percent of likely voters and the congressman had the backing of 43 percent. The survey included 1,624 likely voters with a margin of error of plus or minus 3.4 percent.
However, a poll carried out just a few days earlier, from August 2 to 3, by St. Pete Polls showed Crist leading by a large double-digit margin. The congressman was backed by 56 percent of likely voters compared to Fried's support of just 24 percent—a difference of a whopping 32 points. The survey included 1,361 likely voters with a margin of error of plus or minus 2.7 percent.
Whether Crist or Fried ultimately win their party's nod on Tuesday may not make much of a difference. DeSantis currently appears to be polling well ahead of both candidates, although Crist is performing somewhat better than Fried overall.
The current Real Clear Politics average shows DeSantis ahead of Crist by about 6.2 points. The incumbent Republican has the backing of about 49.4 percent of Floridians and the Democratic hopeful has the support of about 43.2 percent.
Comparatively, the current Real Clear Politics average has Fried trailing DeSantis by about 9.6 points. The Democratic contender is supported by about 41.4 percent of Floridians while the GOP governor is backed by about 51 percent.
A recent University of North Florida poll, however, showed Fried performing slightly better than Crist against DeSantis. That survey had Fried down by 7 points while Crist was down by 8 points. However, DeSantis garnered 50 percent in both matchups. The poll included 1,624 registered voters and had a margin of error of plus or minus 3.4 points.
Although Florida continues to be viewed by many analysts as a swing state, Democrats generally face an uphill battle in statewide races. News and polling analysis site FiveThirtyEight assessed that Florida has a 7.6 point partisan lean in favor of Republicans. The partisan lean represents the "average margin difference between how" Florida "votes and how the country votes overall in congressional and gubernatorial elections, according to a blend of presidential and state-legislative election results."
Notably, a Democrat hasn't won a gubernatorial race in Florida since 1994. The state also went for former GOP President Donald Trump in 2016 and 2020. But prior to that, it went for former Democratic President Barack Obama in 2008 and 2012.