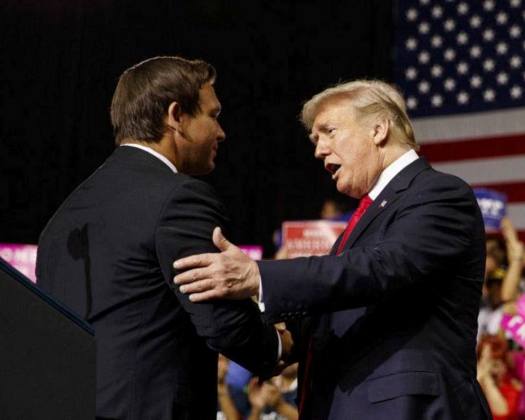 Gov. Ron DeSantis is ahead of former President Donald Trump in the Sunshine State as Florida Republicans look for a candidate to take on President Joe Biden in 2024, a new poll shows.
The Public Opinion Research Lab (PORL) at the University of North Florida (UNF) released a poll on Tuesday, which shows DeSantis gets 47 percent of Florida Republicans, with Trump right behind him at 45 percent while 7 percent back other candidates.
The poll shows only 8 percent of Florida Republicans think Trump and DeSantis are enemies.
"DeSantis and Trump are the two most popular Republican names being discussed for 2024 and DeSantis is edging him out in their home state," said Dr. Michael Binder, the faculty director of PORL and a professor of political science at UNF. "People are split on whether Trump and DeSantis are friends or merely acquaintances, I guess we'll really find out after the midterms and the 2024 race starts to heat up."
The poll shows Biden is upside down in Florida, with 38 percent of registered voters in the state approving of him while 59 percent disapprove of him. The U.S. Supreme Court pulls similar numbers with 37 percent approving of it and 59 percent disapproving of it.
DeSantis is approved by 50 percent of registered voters in Florida, while 48 percent disapprove of him. The poll shows DeSantis leading U.S. Rep. Charlie Crist, D-Fla., and state Agriculture Commissioner Nikki Fried, the top two Democrats running in next week's primary.
The poll of 1,624 registered voters in Florida was taken from August 8 through August 12 and had a margin of error of +/- 3.4 percent.