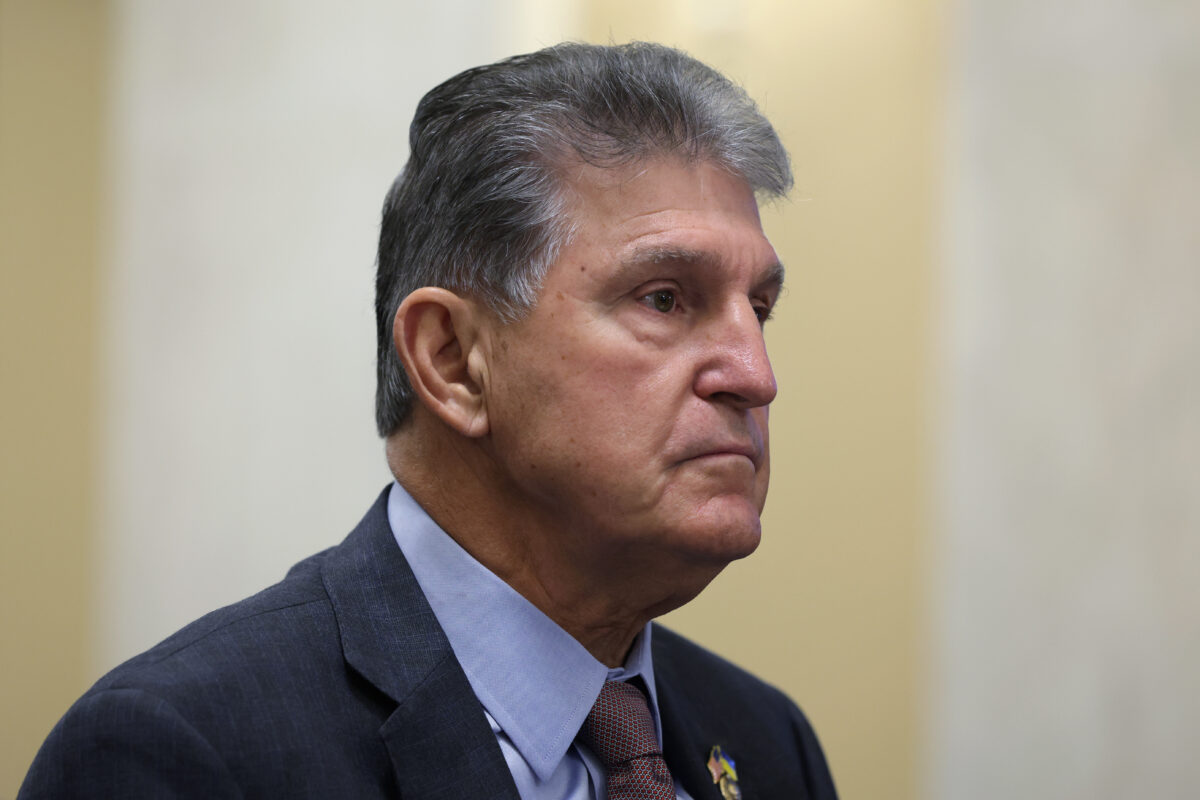 Sen. Joe Manchin (D-W.Va.) won't rule out will running as a non-Democrat against President Joe Biden in the next presidential election, saying that "everything is on the table."
Speaking on Sunday on NBC's "Meet the Press," Manchin was asked about his plans for 2024, including whether he is still "going to run as a Democrat."
"I haven't made a decision [about] what I'm going to do in 2024," the senator replied. "I've got two years ahead of me now to do the best I can for the state and for my country."
"Everything's on the table," Manchin said after Todd pressed on to ask him "what's on the table."
When pressed again on whether reelection and a West Virginia governor bid are "on the table," Manchin said he isn't considering running for governor of his home state. This prompted Todd to ask if he was signaling a presidential run.
"There's basically only one other thing: the presidency," the host said. "Is that something you would do outside the Democratic Party if you could?"
"The only thing I can tell you is what I will do is whatever I can when I make my decision, what I think is the best that I can support and represent the people of West Virginia, but also be true to this country and the Constitution of this country," Manchin said, without addressing the question of whether he would remain a Democrat.
Manchin also would not commit to supporting Biden in 2024 if the president does seek a second term.
"I haven't decided on anything I'm going to do until I see what the lay of the land is going to be at that time," he said. "This country needs to unite. We need to come back together."
Manchin is among a handful of Democrats calling for a full investigation into Biden's alleged mishandling of classified materials, after several batches of documents dating from his vice presidency were found at his private offices.
"The reports about President Biden's mishandling of classified documents are extremely irresponsible and disturbing," Manchin told Fox News on Jan. 20. "These allegations should be investigated fully."
The development "raises serious questions, and the appointment of an unbiased special prosecutor to investigate the matter is the right step," Sen. Tim Kaine (D-Va.) told Fox.
Their comments came just hours before the FBI found even more classified documents at Biden's private home in Wilmington, Delaware.
On Jan. 19, Biden said that he has "no regrets" about keeping the public in the dark about the discovery of classified documents at his private offices until after the 2022 midterm elections, and that he was confident that investigators would "find there's nothing there."
"I think you're gonna find there's nothing there," the president told reporters in California, where he was surveying damages from weeks of massive storms. "I have no regrets. I'm following what the lawyers have told me they want me to do. That's exactly what we're doing. There's no there, there."
Original News Source Link

Running For Office? Conservative Campaign Consulting – Election Day Strategies!